WILD-I: how to tell great wildlife stories
18 February 2015 posted by: Rosie Pook, WPY Comms Officer
Calling all aspiring young wildlife photojournalists and bloggers, we're on the hunt for important and exciting nature stories captured on your mobile phone or tablet for WPY2015. To help inspire you, here are some tips on shaping your stories from BBC Wildlife Magazine editor, Matt Swaine.
Smartphones, camera traps, nestbox cams and a host of other digital devices make it easier than ever to record what's going on in the natural world. But using them to tell powerful stories requires much more than a collection of random images - it requires purpose.
Telling stories is an essential part of being human. We're surrounded by them from the soap operas we watch on TV to the songs we hear on the radio, from the ads that tell a story in under a minute to books that can keep us hooked for hours.
And whether you realise it or not, you are an expert storyteller already. In fact, you tell stories all the time. You tell them to your friends and family everyday…
"How was your weekend?"
"Well, the weirdest thing ever happened…"
I work on BBC Wildlife Magazine with a team of brilliant writers who spend all their time thinking about the stories our readers want to see in the magazine. Take a look at our covers and you can hopefully see the types of stories we tell.
Think about the types of stories people want to read about, you can get inspiration from magazines like BBC Wildlife
We know that readers want to learn more about species and the natural world, so we'll always have at least one story on the cover that promises to teach them something new, like "40 amazing shark facts"
We know that they want to understand conservation issues so we'll always have a story that helps them dig into complex problems, such as "Could hunting actually help to save the Rhino?"
And we know they want to be part of the solution to help save wildlife, so we'll often run stories like, "How you can help British bees"
Think about these stories when entering WILD-I, what type of story could you tell?
Think of what you want to achieve
So if you're thinking of creating your own digital wildlife story the first thing to do is to decide what your story is going to achieve. 2014 WILD-I runner-up, Gaurav Ramnarayanan, is really passionate about lion-tailed macaques, so he told us about the threat to them from deforestation, and showed us the efforts of local wildlife rangers to protect them. He wanted to help educate the general public and tourists not to feed these macaques.
"I hope people will realize the need to protect and preserve the bio-diversity rich Western Ghats and the endangered, endemic lion-tailed Macaque" Guarav says.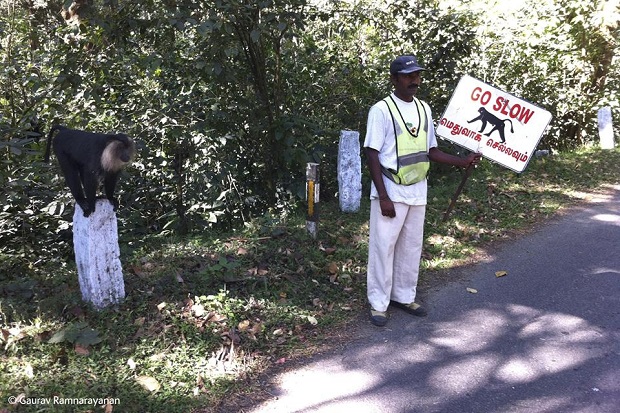 Gaurav wanted to protect the endangered lion-tailed macaques of the Western Ghats, so he told us about their plight in his WILD-I entry
Ask questions
Questions are always a good way to explain what your story is going to do, because a question promises the reader an answer. It also helps you to decide what content to include: if it answers the question you should put it in, if it doesn't, then probably leave it out.
Here are some examples of questions that I'd love to see answered in WILD-I
• Just how much urban wildlife can you find in your nearest city?
• What are the first signs of spring?
• What is life like working as a warden on a wildlife reserve? You could even include a short interview with the warden!
• Just how diverse is the wildlife you can find on a beach?
Stay passionate
You can pick any topic you are really interested in. In fact, you HAVE to pick something that you find incredibly exciting and that you want to investigate.
Will Jenkins, the reigning WILD-I champ, is passionate about trees. He showed us how important trees are to the planet - what lives in them and around them - with the hope that his story would help spread the word to people who may not have known how important trees are for the rest of the natural world.
Will told us, 'I can't imagine a world without trees. They are like huge housing estates for wildlife - cosmopolitan hideouts with different lodgers around the world.'
2014 WILD-I winner Will Jenkins is really passionate about trees, so he used his passion to tell the story of their importance
The best thing about being a journalist is that it gives you license to ask questions and find things out. But before you start researching, before you start taking photographs, see if you can be clear about what your story is going to do. Decide what you want to tell and why. And then see if you can sum that up as a question that you are going to go out and find the answer to.
Good luck!
About the WILD-I Category
The Young Wildlife Photographer of the Year competition is open for entries, and we're calling all budding citizen reporters aged 17 and under. We're looking for personal and newsworthy stories about the natural world captured on your mobile or tablet. Reports may cover anything from conservation efforts through to habitat destruction and the wider human impact on the wildlife around you.
TIP!
Enter up to 10 images and a report of 150 words, which reveal your passion, curiosity and story-telling skills. Find out more and enter here
And for tips on taking pictures on your mobile phone, read our previous blog post.
ABOUT MATT SWAINE
Matt is editor of BBC Wildlife Magazine. He's spent 12 years writing about the outdoors, which has involved sharing Scottish mountains with red deer, ptarmigans and snow buntings. He's searched for the elusive Snowdon lily, photographed lizards and ibex in Spain and watched wild dolphins in New Zealand. BBC Wildlife Magazine is the No.1 paid for wildlife magazine in the UK. It is a celebration of the natural world and aims to inspire readers with the sheer wonder and beauty of nature and help them understand and appreciate the truly amazing world around. Packed with fascinating and informative features written by experts and illustrated with award-winning photography, BBC Wildlife Magazine and DiscoverWildlife.com are essential reading for anyone with a passion for wildlife. Find out more and subscribe to the magazine