Behind the Scenes - The WPY Academy
09 February 2015 posted by: Rosie Pook, WPY Comms Officer
Here at Wildlife Photographer of the Year, we know that the future of nature photography lies with our young entrants. So we've launched the WPY Academy, a prize for all those awarded in the young competition. It features a full day of talks and workshops with world-leading photographers and scientists, all taking place within London's world-renowned Natural History Museum. Here's what happened when this year's winners visited the Academy.
WPY Academy host, Tom Ang, explains:
"What we wanted to do was offer a prize to our young winners that was beyond measure and beyond money. We wanted to see how we could take their photography further, to show them that making the picture and entering them into the competition is actually just the beginning."
In the morning we heard from Academy presenters, National Geographic photographer and WPY judge, Christian Zeigler and BBC Wildlife Magazine's Matt Swaine, as they offered practical photography tips and shared some of the amazing experiences they've had working in wildlife photography, such as being chased by 60kg killer birds and exploring the world in search of carnivorous plants. Matt Swain says:
"It was fantastic to meet the young winners and give them advice on story-telling and how they could feature in the magazine in the future. I know I'll be seeing their work gracing the front pages in years to come. That's why the Academy is so important. And we want to build the into the best it can be; ensuring that it helps give young photographers the best possible start in their careers. We're already busy planning for this year's workshop."
It was after lunch when the fun really started. We set out on an expedition behind the scenes of the Natural History Museum, photographing all the way, of course!
Nettie Edwards, an award-winning mobile phone photographer and workshop leader guided the group around the Musuem. So what does the day mean to her?
"The WPY Academy is so important in rewarding and encouraging young photographers, it really is a prize that money can't buy, and getting to see behind the scenes of one of the world's most well-loved museums was a treat for us all! We wanted to inspire the competition winners and teach them to see the world in a completely new way, so I came equipped with the tools of my trade, a mobile phone, and various gadgets and gizmos like clip-on macro and fish-eye lenses."
Our first stop was the Angela Marmont Centre for UK Biodiversity (AMC), where we met Dr John Tweddle who told us about how the centre helps people identify the wildlife that they find in and around their neighbourhoods. We got up close and personal with some of the centre's specimens including bees, beetles, moths and butterflies, experimenting with lenses, microscopes and projectors.
WPY Academy host, Nettie Edwards, offers top tips on mobile phone photography in the Angela Marmont Centre (AMC).
On why the day is so valuable, 15-17 years category finalist, Josh Burch, says:
"We're the next generation of photographers, so we're the ones that need coaching as it's us who are inheriting the world from older generations."
Getting to grips with photographing fossils with a macro lens in the AMC.
Have you ever met a prehistoric fish? What about a colossal giant squid? That's exactly what we did next in the dark depths of the Museum's tank room, home to some of the 22 million specimens we hold, including some collected by Charles Darwin himself.
Mr Roberto Portela Miguez, the Museum's mammals curator, gave us a guided tour and introduced us to some of the strangest looking fish on the planet, such as the deep sea shark and the anglerfish.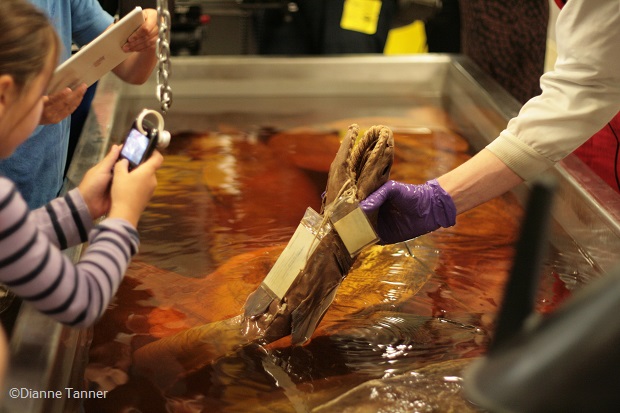 Roberto Portela Miguez introduces us to a deep sea shark.
Then we were let loose to explore the jars and jars of extraordinary specimens, with Academy hosts on hand to offer tips and guidance on getting the best possible shots.
11-14 Year category finalist Skye Meaker tells us:
"It was out of this world. We got to see such amazing photographers who took us around the museum into places no-one else could be"
The Museum's tank room holds some of our 22 million specimens.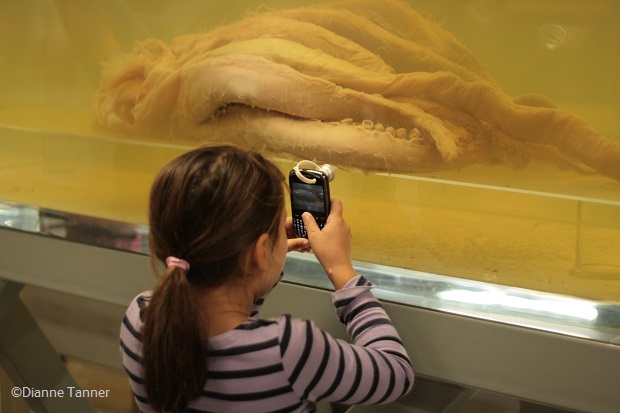 A face to face meeting with Archie, the Museum's famous colossal giant squid.

We finished the day at the Museum's super high-tech imaging and analysis labs, where scientists work round the clock to analyse specimens from all across the solar system. The team use a whole host of techniques such as CT scanning, x-ray and electron microscopy to examine everything from moon rock to mummified cats!
Chris Jones and Dan Sykes help run the labs, they showed us round and taught us how to see tiny objects even smaller then a pin-head, and how to see straight through animals, revealing a whole new world and never ending photographic possibilities.
Dan Sykes shows us an image of the inside of an anglerfish, taken by a CT scanner.
So, what will we be taking away from the day? 15-17 Years category winner, Anton Lija sums it up for us:
"I've learned to follow my instincts, to believe in myself, but to not always follow the rules."
You could be joining us for next year's WPY Academy, where we'll be meeting more amazing photographers and revealing even more hidden secrets of the Natural History Museum. For a chance to take part, enter the Young Wildlife Photographer of the Year competition, all competition winners will be invited to the day. See you there!
Thanks to myhotel Chelsea, proud supporter of the WPY Academy for young photographers. The myhotels experience delicately balances award-winning design with a sense of warmth and a distinctive local flavour, bringing guests back time after time.