Urban wildlife - the quiet spectacle of the commonplace
13 February 2015 posted by: Rosie Pook, WPY Comms Officer
Regular WPY fixtures and urban wildlife photography experts, Professor Alex Badyaev, Pål Hermansen and Sam Hobson debate the merits of photographing in your local neighbourhood and offer tips on snapping urban nature around towns, cities - and even the desert.
Should nature photography be defined by its absence of man?
Alex: Not at all, we co-exist, that's why I often choose to include a human, or "urban", dimension in my nature photography. I live in one of the wildest and most remote places in the United States, it's hard to photograph urban elements here because there are none for hundreds of miles - my choice of buildings is limited to exactly one homesteader cabin - ours, and my cast of featured humans is exactly two - me and my fast growing son.
But even our urban elements are constantly compromised by nature - there is a persistent black bear that tries to den under the cabin and has to be chased away every November, the attic is home to a few thousand bats, just this past summer a mountain lion had her three kittens in a den near our woodpile, and this autumn a large family of flying squirrels moved into our outhouse and half-filled it with mushrooms stored for the long winter.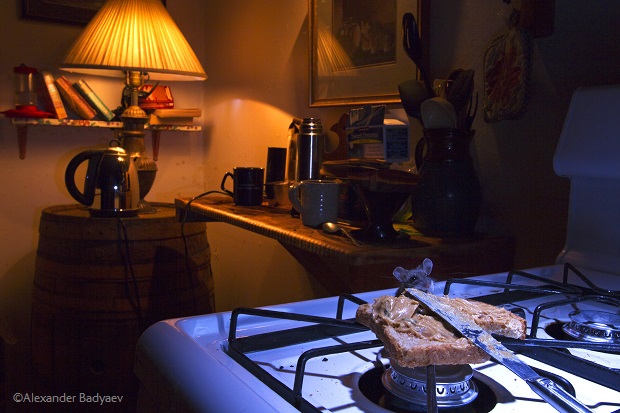 Alex Badyaev's research cabin in the Blackfoot Valley, Montana, USA, is permanently occupied. He co-exists with the nature around him. This image, Midnight snack, was specially commended in WPY2012.
Pål: There are very few areas on the planet that are totally unspoilt and unaffected by humans and I think photography should reflect that. Besides, surely man is a part of nature!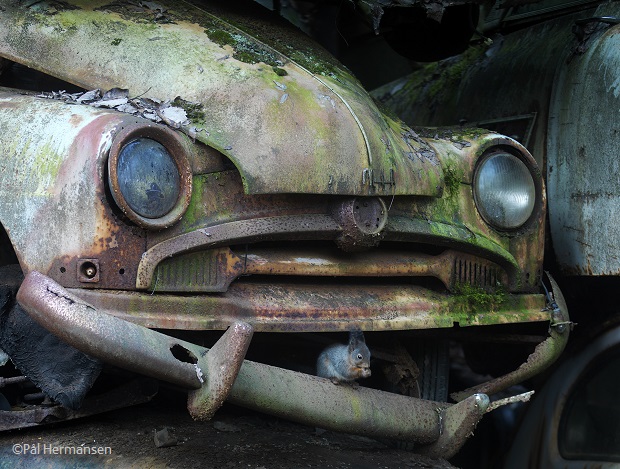 "I'm fascinated by how wildlife slowly occupies what were once powerful human symbols of status," says Pål Hermansen. Pål's image, Bumper life, was a runner-up in WPY2012.
I think the search for perfect moments of remote wilderness has contributed to a lack of identification with nature photography, both from the general urban public - who themselves may have limited experience with the wilderness - as well as photographers from other genres. Natural history television, for example, although glorious, is very far from the reality of most people´s daily lives. So I want to stimulate engagement with nature and nature photography in the general public through my images of urban wildlife.
Why do you choose to photograph urban wildlife?
Sam: It's natural for wildlife photographers to take inspiration from the animals living around them. But for me, there's much more to urban wildlife photography than straightforward convenience.
There are many reasons I choose to look to towns and cities for my wildlife photography subjects, rather than head out into the countryside. For instance, urban wildlife can be more tolerant of humans, giving better chances to get up close and personal - even shy animals are accustomed to the smell of humans. And urban areas are also perfect for night photography, which I love. Ambient light from the glow of city lights allow you to be more creative and experimental with multiple light sources when photographing nocturnal animals.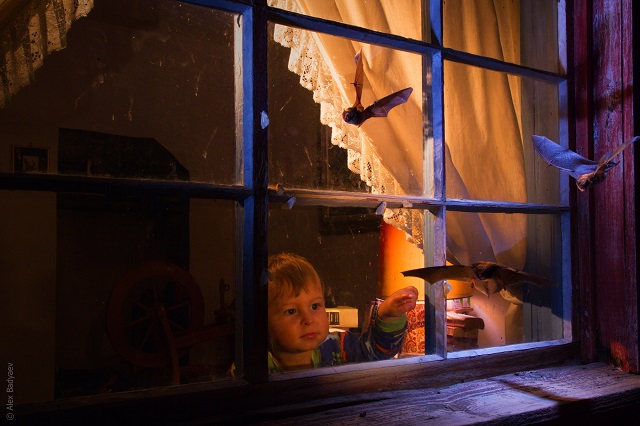 "Showing animals with some instantly recognisable human element gives the viewer an idea of the animal's biology and behaviour, for example it's size or patterns of movement, all without saying a word" says Alex.
There are also opportunities to use manmade structures and environments to create interesting and visually striking backgrounds - geometric patterns, unusual perspectives and straight lines from tall buildings and long roads can all be used to create strong graphic compositions.
But the most important reason that I photograph urban wildlife is that it can help to bring people in the city closer to nature. By setting a wildlife subject in a familiar context like a street scene, there is an instant connection - something the viewer can relate to.
What role can urban wildlife images play?
Pål: A stronger focus on the human element in nature photography is definitely a response to the growing population and the rising awareness of environmental issues. But this shouldn't necessarily result in a trend of depressing images of man´s strangulation of nature. There's an aspect of humour and absurdity that often pops up when different species encounter each other - urban wildlife photography can surprise and amuse us too.
Like my image of a song thrush nesting amongst moss and branches growing through a rusty old car; it's riddled with quirky detail, and tells the deeper, positive story of life thriving in an automobile graveyard. Though the cars are worthless now to humans, they have been reborn as habitats for all kinds of animals. Having rejected Saab and VW, Volvo and Benz, the pair have chosen to raise their brood inside a rusty Opel Rekord.
Pål's image, Life after rust, surprises us by showing birds thriving in a very 'human' space. The image won the WPY2014 Urban Wildlife category.
Sam: I agree, urban images can be used to change perceptions for the better. Like with my picture, Feral spirits. It started with an idea of wanting to make an exciting image of something commonplace. I wanted the subject to jump out of the picture, so I decided to try and capture the bright green flash of a ring-necked parakeet against a grey urban backdrop.
Sam Hobson hopes that his image, Feral spirits - which was awarded in WPY 2014 - will encourage Londoners to cherish the city's alien ring-necked parakeets.
These are a non-native species - an alien in the English landscape, but are now so numerous in the south-east of the UK that Londoners have started referring to them as "posh pigeons". They are often seen as pests and can be incredibly noisy - bullying other birds on the bird feeder, but as they have now been added to the official list of British birds we need to learn to accept them - even appreciate them. I wanted to help encourage this by showing them in a different light.
Do you have any tips for photographers entering the urban category this year?
Sam: Think differently. One of my favourite ways to photograph urban animals in context is to use a wide angle lens and get as close as possible, so that the subject remains big in the frame, whilst still including plenty of background. I recently started working with a family of foxes in Bristol and this particular adolescent was incredibly curious and quickly grew accustomed to my camera and strobes.
"Urban wildlife can be incredibly curious and more tolerant of humans, giving better chances to get up close and personal", says Sam.
By lighting the fox with flash and using a long exposure to capture the ambient light in the background, I was able to do something a little different with quite a familiar subject. The eye contact in this image is important in creating a connection between the viewer and the animal.
Pål: Invest time in watching a local urban area. You'll get to know the animals there, see how they behave, when and where they feed and where they rest. With a bit of effort, you should be able to get close to them, and then you can find stories about nature in the most unlikely places.
And see 'like a child'! Try to let go of your assumptions and experience things as they do, you'll be amazed at how this opens nature up to you.
Alex: Use urban light. We humans generate a lot of it and I'm fascinated with using it as boundary between human and wildlife worlds. A kid peering out of warmly glowing cabin into moon-lit bats fluttering in the darkness; a person lit by monitor glow himself being watched through the window by passing fox; a mouse nibbling on a left-over sandwich in a midnight kitchen; it's urban light that makes these photos work.
"Lit by moonlight from outside the gray fox gets a glimpse into human life"
Because both photographers and viewers are fluent in interpreting this light - this is very much our world - we know instantly where we are. This is what makes including the human dimension in wildlife photography so rewarding - it is an explicit link to the humans who will see the photo, and to their own stories.
Wildlife Photographer of the Year 2015 is now open for entries. For more information and to enter, click here
About the contributors
Professor of evolutionary biology at the University of Arizona, USA, Alex is a regular contributor to several international natural history magazines. His scientific work, nature photography and popular science writing have all been recognised with major awards. His images tell stories about species, capturing their essence and revealing rarely seen behaviours. See more of Alex's work here.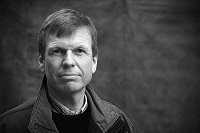 Pål Hermansen has worked as a freelance photographer and writer since 1971, has written and illustrated 25 books, and has had more than 25 solo exhibitions. He is board member and member of honour of Norske Naturfotografer (NN; Norwegian Nature Photographers' Association), a member of Forbundet Frie Fotografer (FFF; the Norwegian Fine Art Photographers' Association), and a former WPY judge. See more of Pål's workhere.
Pål's work is included in the book The Masters of Nature Photography: Wildlife Photographer of the Year, published by the Museum.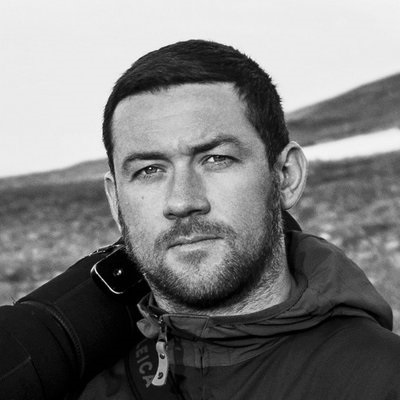 Sam Hobson
Sam grew up in London, where he learned from an early age to appreciate that wildlife is all around us, even in an urban environment. Now a professional wildlife photographer based in Bristol, UK, his field skills and understanding of animal behaviour have been the cornerstone of his career. His images have been widely published and he regularly gives talks about his work. See more of Sam's work here.