What lies beneath: mastering underwater photography - part two
14 January 2015 posted by: Rosie Pook, WPY Comms Officer
In the second of his 2-part series on mastering the art of underwater photography, WPY winner and 2015 judge, Alex Mustard, tells us why it's not all about equipment, offers tips on how to win the competition, and explains what he'll be looking for when he joins this year's jury.
Fly! In water, you can move freely in three dimensions, which is liberating both creatively and technically. In the 2013 competition my winning image 'Giant With Sunbeams' was a silhouette of whaleshark taken in Mexico. Although a simple image, the key to its success was in getting every detail exactly right. And that meant being in exactly the right position relative to the biggest fish on the planet.
In the underwater world, you can frame the subject from almost any angle. Here, my only limitation was how long I could hold my breath!
Consider what you can afford. Serious underwater photographers are on a never-ending quest for the perfect SLR housings, glass dome ports and underwater flashes and so on, and they can easily spend a fortune. Like land wildlife photography, there are certain types of images that demand certain kinds of equipment. A big dome port is required for taking split-level shots, where the camera can see both above and below the surface simultaneously. In general we love the widest lenses, like fisheyes, and also macro lenses for details and tiny creatures. But it all costs money.
Luckily, cheaper technology is also capable of capturing brilliant images. For the whaleshark photo above, I chose a small camera because I knew that it would be impossible to get into the perfect position next to a moving whale shark if I had to drag my big SLR housing through the water. Alternatively, you can use a point-and-shoot camera in a waterproof case. Underwater housings for smaller cameras are more affordable, or you might want to buy a cheap secondhand camera and housing specifically for underwater use to avoid risking your main camera. You can even get underwater housings for iPhones, which is ideal for the WILD-I category. If you stay shallow where there is lots of light, I've seen amazing results, though you need to be extremely careful taking such an expensive device underwater.
Be inventive. Successful images often use new techniques and unconventional approaches. With cameras being so capable these days, photography is no longer a technical discipline, but an ideas game. So when you have brainwaves, follow them through, even if there are a lot of failures along the way. Some of the most successful competitions entrants are those who have an idea and then go through months of trial and error until they get the image that meets their own exacting high standards.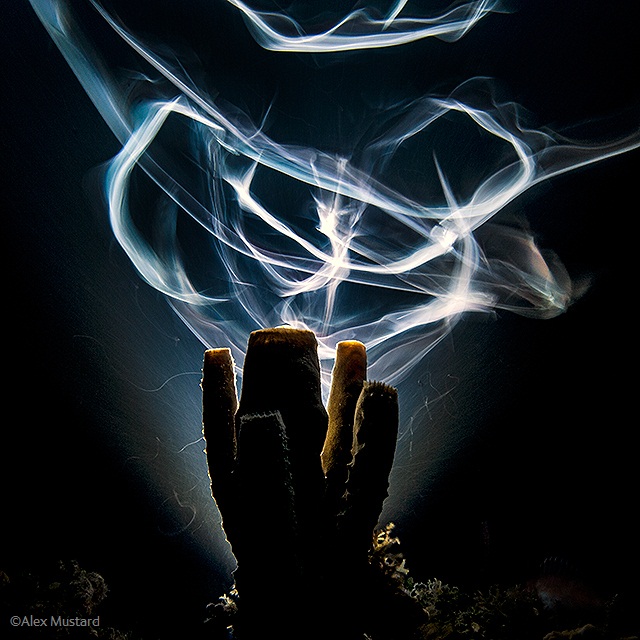 I wanted to capture the energy of predatory jacks hunting over a coral reef at night. But all my flash-lit shots lacked emotion, and the fish looked almost frozen. I finally decided to experiment with long exposures, blurring the fish into trails and their prey into smaller trails against the inky sea until I finally got an image that captures the drama of the hunt.
Exceed expectations (or - how to win!) The question I am asked the most is how to be successful. As a member of this year's jury, I don't know yet what pictures I'll choose, but I want to see images that blow my socks off, so my best advice is to exceed our expectations. Show us images we have not seen before. Make sure your images are technically perfect and then dare to be different in composition, lighting or technique. I photographed this male anthias against the patterns of light created by the sunset underwater. I wanted these to be out of focus, which meant using a wide aperture, but the sunlight was too bright for normal flash photography. So I placed a highspeed flash in a housing to allow me to use a fast shutter speed and create this beautiful backdrop.
If I wasn't judging I would have entered this picture of a male anthias myself into the 2015 competition!
The Natural History Museum has the perfect cheat sheet for success - 50 Years of Wildlife Photographer of the Year, a book that should really be called How to Win! Great shots of rarely photographed species or behaviours may do well, especially big creatures like marine mammals, sharks, turtles, etc., but add your own twist. And don't forget the small species. In 2013 I entered an image of the biggest fish in the sea, the whale shark; and in last year's contest I won with a tiny nudibranch. And remember that you can also enter underwater images in other categories as long as they fit the theme.
If you succeed, the rewards extend far beyond the award itself. Your image will be seen by millions of people, from all walks of life. I have found myself speaking to royalty one day and to a group of school children the next. But for me it's not about the prestige or the prizes - it's about inspiring the next generation to discover that magical world of underwater photography for themselves.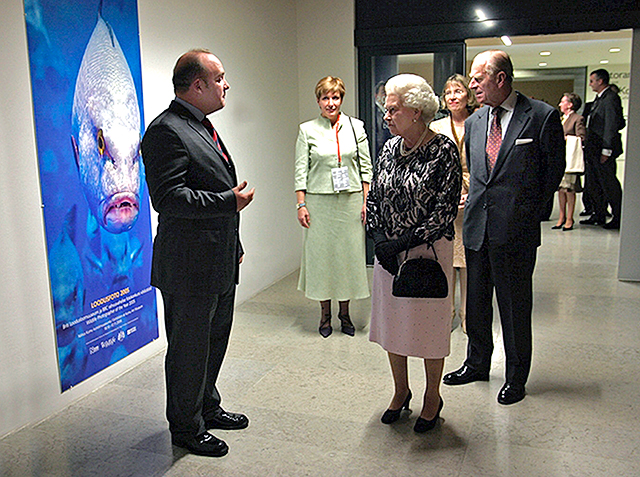 Me meeting the Queen and Duke of Edinburgh at the Wildlife Photographer of the Year travelling exhibition in Estonia in 2006
Like most photographers, I critique the competition every year when I visit the exhibition or read the book, picking my favourites and debating them with my friends. This year, I am stepping up to do it for real, and I'm tremendously excited about the fact that I'll be seeing tens of thousands of jaw dropping shots and whittling them down until we've chosen the 51st Wildlife Photographer of the Year.
I look forward to passing on my specialist underwater knowledge as well as listening to and debating the selections with all the other judges. As a photographer, I know how valuable my own successes in the competition have been, both in terms of my own career and for shining a light on the species and stories I care about. I know I speak for all the judges when I say we'll leave no stone unturned in our efforts to make the winners collection for 2015 the best ever. Now it is up to you to enter!
ABOUT DR ALEXANDER MUSTARD
Alex is probably the UK's best known underwater photographer. He has been taking underwater photographs for 30 years, and has been working as a full-time underwater photographer for the past 10. His innovative photographs are respected and celebrated around the world. He has pioneered many techniques within underwater photography and is held in particular esteem by the underwater photography community for continually sharing his secrets through talks and workshops. His photographs have attracted many awards including Wildlife Photographer of the Year and the British Wildlife Photography Awards. His last book, Reefs Revealed, won the International Grand Prize for the best book of underwater photographs. In 2013, he was named European Wildlife Photographer of the Year, the first time an underwater photograph had ever won this award. Alex is a regular columnist and features writer for many publications in the marine, wildlife, diving and photographic media, and to date has published more than 400 articles. He was on the team for the 2020VISION conservation photography project in the UK and also runs highly popular underwater photography workshops at top diving destinations around the world.