In profile: Anup Shah - calculating wildlife
12 December 2014 posted by: Rosie Pook, WPY Comms Officer
Anup Shah is one of the most awarded photographers in the WPY competition, with 14 wins to his name. In our series profiling the Masters of Nature Photography, Anup tells us about the how he discovered wildlife, why he immerses himself in his subject and why he thinks of himself as a street photographer.
I grew up in Kenya, which gave me a taste for travel, but I never really had any particular interest in either photography or wildlife in my early years. At the age of 18, I settled in London and ended up doing a PhD in Mathematical Economics before eventually getting a job as a lecturer at the University of Essex.
Back then, in the 80s, the university system gave lecturers a lot of time to do their own research. We would get a month at Christmas, and perhaps three months in the summer. I realised that I could combine my university research with my beloved travel. Then, one day, during a research trip to India in 1986, I saw a wild tiger for the first time. This was the turning point - an epiphany almost, because until then I had no idea that I could enter this world of wild tigers living their own lives in their own environments, it was an enormous privilege.
By this stage I had started dabbling in photography (though the equipment I was using was laughable), and it occurred to me that I should use this to delve deeper into the extraordinary world of wild cats that I had just discovered. I made the decision to try and make this work, and to devote as much of my time, energy and resources as possible into paying photographic homage to wild animals. Many of the more interesting wild places were still genuinely wild, as yet untouched by the mass tourism that exists today, and my efforts began to pay off. I managed to establish myself as a wildlife photographer and, in 1999, eventually found myself in a position where I was able to resign from my academic job, a decision I have never regretted.
Since seeing that first tiger, I had become completely fascinated by them, and I did everything I could to photograph their world. I visited Ranthambore National Park, and I soon realised that if I concentrated on one particular place, I could get to know it very well - the habitats within it, its characteristics and nuances. I started to notice what I think of as 'intangibles' - things you can't necessarily photograph or translate, but which are part of the personality of a place. In the end, the project took six years. This idea of immersing myself in a place or subject has influenced the way I've worked ever since.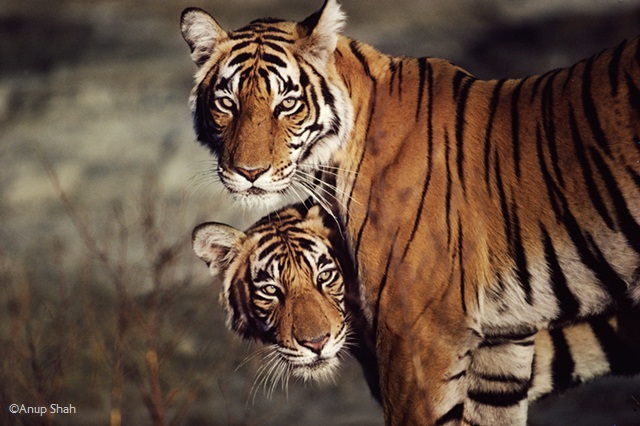 Anup immersed himself fully in the environment of the tiger in Ranthambore National Park, Northern India. Evident in this image taken in the park in 1991
I had begun entering some of my images into the Wildlife Photographer of the Year competition in 1992. The mere act of entering the competition made me look at my own images more dispassionately and compare what I was doing with what others were up to. I realised that my work wasn't quite up to scratch. In fact, it made me realise that most of my images were awful!
So I decided to take steps to improve my work, and I began to read up about the history of photography. One of those who inspired me was the French photographer Henri Cartier-Bresson, who was known for his distinctive black-and-white work. He would not only captured a moment, but simultaneously used form, composition, texture in such a way that the image would be catapulted into a new dimension and become much more than simple documentation. This had a powerful effect on my work and I started to move my photography beyond zoological content and towards aesthetics.
Anup took inspiration from photographers such as Henri Cartier-Bresson to develop his work aesthetically
In the late 1990s, I returned to the continent of my childhood and began to photograph the big mammals of East Africa. I experimented a lot with remote cameras, photographing from a distance. This meant that I could get rid of the space between me and the animal; with lions, in particular, this is the only way to get close safely. Their curiosity is amazing. When you get to know them as individuals, you can predict which one will ignore the camera, which one will play with it, and which one will pick it up, carry it into a bush and take it apart.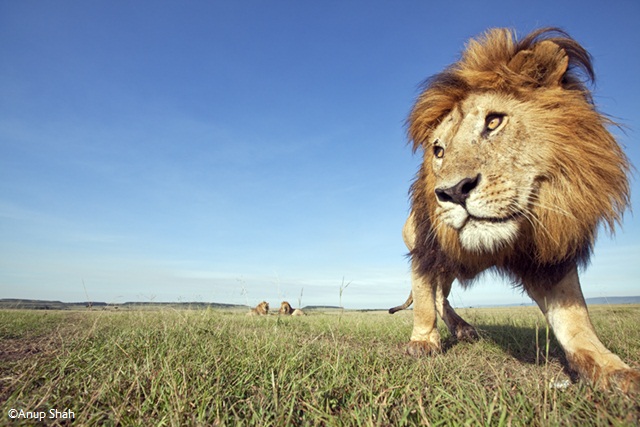 Anup experimented with remote photography to capture this wide-angle image of a lion and his brothers in Kenya's Maasai Mara
The personal satisfaction I get from knowing wild animals is intense, and I know that it's a relationship that's not born of anticipating a food or grooming reward from me. Ethical photography is incredibly important to me; I will never make compromises in terms of the animal's welfare, and I make sure that my images are respectful of the individual animal.
I started to explore other genres of photography, to try and broaden my outlook, drawing inspiration from the way photographers working in completely different fields practice. A sports photographer at a Grand Prix race or marathon, for example, can to a certain extent either predict what is likely to happen, or get several chances to get it right. Portrait photographers can ask their subjects to pose. Thinking about the differences in the way we work had a profound effect on me, as I was able to identify and develop the specialist skills I need for wildlife photography. I know that something unexpected may happen at any moment, and I need to ask myself if I am prepared, because I'm unlikely to get a second chance. The bonus is that if I do get it right, the fact that the moment was unexpected makes the image even more special.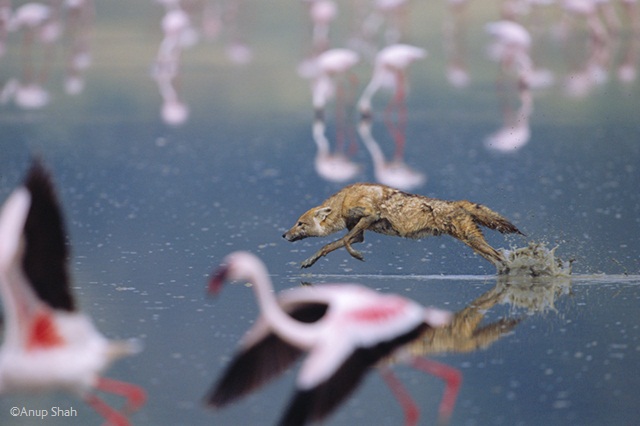 Be prepared for those unexpected moments, says Anup
Street photography in particular proved a rich source of inspiration. Street photographers choose a location, station themselves in one place and then look around to see what is going on, what might be photogenic. They use a wide-angled lens so that they show their subjects in context - surrounded by sky-scrapers, other people, buses and so on. As they wait and watch, street photographers notice stories, ideas and relationships, and this is what they photograph.
I adopted exactly the same approach during my recent three-year project to photograph the chimpanzees for my book Tales from Gombe. Once the chimpanzees had accepted my presence, I would settle myself nearby and simply watch, often for hours, to see what would present itself. I used a short lens to photograph them in their context. By that I mean not only the forest, which was the physical context, but also the backdrop of their intricate social lives and complex personalities, against which daily dramas would play out. Like any urban photographer, I just had to fit in, and once I did, I enjoyed fascinating opportunities to observe and photograph their world of plots, passion and politics.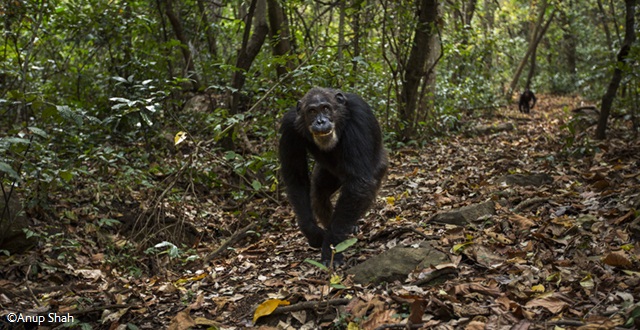 "I just had to fit in", says Anup of his experience documenting the lives of Gombe's famous chimps
I am always thinking ahead to the next project, but I take care to protect my photographic self; paralysis can set in all too easily. I've learned to remain flexible and draw inspiration from whatever comes my way, because that's how I notice those magical moments.
Anup's Tips
"Photography is a love affair with life. " (Burke Uzzle)
"Great photography is about depth of feeling, not depth of field." (Peter Adams)
"The marvels of daily life are exciting, no movie director can arrange the unexpected that you find in the street." (Robert Doisneau)
Anup will lead a masterclass on primate photography at the Museum on 27 January 2015. Book your tickets online.
ABOUT ANUP SHAH
Anup's images have been published widely and his books include Tiger's Tale, The Great Rift Valley of East Africa, Wild Rhythms of Africa, Circle of Life, Serengeti Spy and African Odyssey. Anup and his wife Fiona Rogers have spent the past decade photographing the chimpanzees of Tanzania's Gombe National Park for their new book Tales from Gombe. His magazine work includes eight full length features for National Geographic magazine.