In profile - Michael 'Nick' Nichols: the struggle for natural justice
27 November 2014 posted by: Rosie Pook, WPY Comms Officer
Continuing our series profiling the Masters of Nature Photography, Michael 'Nick' Nichols tells us about his lifelong fight to give nature a fair hearing, why the camera is his weapon of choice, and how his work has shaped him into the man he is today.
Photography has transformed me; it's only now, looking back on my career, that I've realised this. I've been taking photographs all my life, and that whole time I thought I was the one manipulating cameras, choosing subjects, telling stories... But the whole time, photography has been quietly but profoundly chipping away at me too, shaping my ethics, my commitment, my social conscience, making me almost arrogant about what I feel I must do. I am who I am because of photography. It's just there. It's just part of me.
I didn't set out to photograph nature. It was photojournalism that fascinated me, the way a whole story could hang on the hook of a single, perfectly executed moment, and in my 20s I ended up working as a photographer in the army. I would spend hours poring over the work of photojournalists like Henri Cartier-Bresson and Ernest Haas. They made me see that a camera can do more than just document stuff: it can be an instrument of change.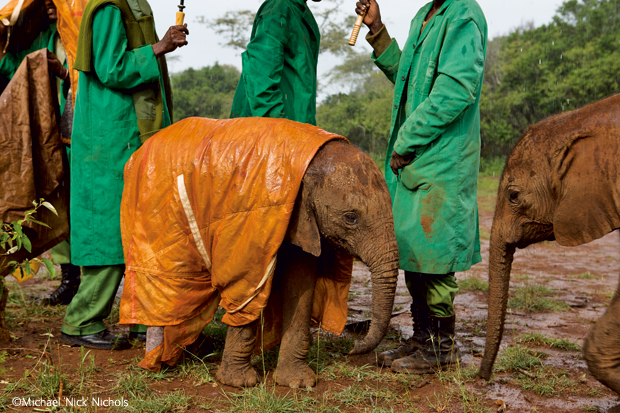 Nick's passion and skill for photojournalism is evident in his images of orphaned elephants at the David Sheldrick Wildlife Trust Elephant Nursery, Nairobi (above), and a tortured chimp Bujumbura, Burundi (below)
I was a hippie, I already cared about social justice, and although I hated wearing the uniform, I stayed on another year in the army so I could get my hands on equipment I couldn't afford. The other army photographers had a mantra - 'f8 and be there'. It was the single most important lesson of my life; that photography is not about kit, but instinct.
This insight gave me the courage to trust my gut, and it meant that when I faced rejection, I could take it - and (often) ignore it! When I sent some images to National Geographic, the director of photography at the time, Bob Gilka, wrote, "Why don't you choose another profession - have you thought of being an attorney?" Gilka was legendary for his tough love and was testing my resolve. 
Giving up never occurred to me. I just kept at it and kept at it some more. I relished the challenge of trying to do well, get published and recognised. I was lucky, because I reached those goals almost out of the box. I don't think it was because I was particularly talented, but rather that I was so absolutely determined. I think I've trained myself in obsession.
One of my first stories was about bush pilots in Africa, for Geo magazine. One day, we were flying over the Virunga Mountains, and the pilot pointed down and said, "That's where that crazy woman lives with the gorillas." I had grown up hearing about Dian Fossey and Jane Goodall, and the stories of these tough researchers, so committed to their work, resonated, and In 1980, I found myself in Rwanda on an assignment about a new phenomenon: ecotourism.
"Getting to know and photograph Jane Goodall changed my life," says Nick, "she taught me to pay attention to the individuals"
And everything changed. In my earlier years I had found a mentor in Life magazine photographer Charles Moore and his famous images of the Civil Rights Movement always stayed with me. If he could change public perception about discrimination against humans, why couldn't I do the same for abuses against nature?
I'd found my mission, and it's driven me ever since. I'm not a traditional activist, but I want my images to help the legions of scientists, conservationists, politicians and researchers on the ground, fighting to protect the animals and environments that can't defend themselves. It's not about banging drums or waving flags, but about using evidence-based science. I want to make photographs that can't be argued with. Photographs that demand action. I want my work to do the work of hard data, and much more.
And what an amazing feeling it is when that happens. In 1999, I accompanied the conservationist Michael Fay on a 15-month, 3,200-km 'MegaTransect' trek across the Congo Basin to chronicle the region's forests. Michael used my images to help lobby successfully for the creation of 13 new national parks in Gabon. But I wasn't done, and my work in the region continued for more than a decade. 
One of Nick's favourite images from a 15-year-long assignment in Central Africa
But it's not just about photographing horror, but also about beauty, behaviour, and seeking intimacy with other animals as a route to understanding. That was what impelled me to take on the lion project in the Serengeti. I wanted to build on Craig Packer's work on lion 'real estate' about how, as a lion, the size and quality of the territory you own affects your life chances. I spent so much time with the lions that I could sense every nuance of their moods. I knew individual personalities, I could tell when I'd got too close, or stayed too long.
But the project was infused with the sense of time running out, that we are wiping out these lions, that we still don't get how final that will be, how unthinkable it is, how they need habitats, ecosystems, social lives and solitude... It's a long, complex, difficult story, and I was absolutely determined to find a way to abbreviate it into a single, photojournalism-style image: 'The Last Great Picture'.
'The Last Great Picture' tells the complex and challening story of a pride's - and species' fight for survival 
When it won this year's Wildlife Photographer of the Year, I was proud of course, but I felt so moved because with David Attenborough, the Duchess of Cambridge and other high profile people there, I knew the story would be told all over the world. And that's why the competition is so important, not because it recognises the work of individual photographers, but because it disseminates important stories.
Each project has fortified me in its own way. Over time, I've become more tenacious, more outspoken, and if I get an idea, I'm determined to figure out a way see it through. Right now, I'm working in Yellowstone National Park with researchers who want to shift public understanding of 'boundaries' and what these mean to the park's bears, bison and wolves. The scientists know that I'm an ambassador for their work; that I'm on their side.
People call me a wildlife photographer, but I say, wait a minute! This isn't about either nature or people, because truly we're in it together. It's about injustice, and that's what I'm fighting; I just concentrate on what that means to the environment, and a camera is my weapon of choice.
Nick's Tips:
Wildlife photography is about thinking; that's the part you need to foster, the intellectual process you go through to decide how to crystallise a story about the natural world into a single moment. If you find a way of doing that in a way that turns the dial, ever so slightly, in terms of how people act, and do so with stunning images, then you will have the edge and go to another level. If you can do that, the sky's the limit. Make your images work.
Nick's work is included in the book The Masters of Nature Photography: Wildlife Photographer of the Year, published by the Museum.
ABOUT NICK NICHOLS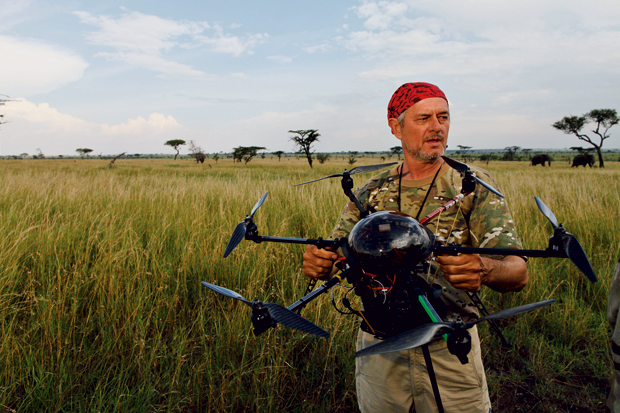 Nick's career spans more than 35 years. Much of that has been spent with National Geographic, where he became staff photographer in 1996 and was named Editor-at-Large in 2008, and for whom he has photographed 26 stories, often using ground-breaking new techniques. His work has been published in numerous books and magazines, and the mass of accolades he has received reflects the international recognition he has earned. Nick actively fosters new talent, particularly through the LOOK3 Festival of the Photograph he set up. http://www.michaelnicknichols.com/