2014 WPY winners announced
22 October 2014 posted by: Rosie Pook, WPY Comms Officer
Months of suspense and anticipation came to a head last night as the winners of the 2014 Wildlife Photographer of the Year competition were revealed during a glittering awards ceremony at the Museum.
The awards, celebrating the competition's 50th year, were hosted by natural history presenter, Liz Bonnin, and renowned wildlife photographer Frans Lanting. The two grand title awards were presented by Sir David Attenborough, who also presented the first ever award to CV Roger Dowdeswell in 1966, and the Museum's Patron, the Duchess of Cambridge.
The 2014 winners with hosts Liz Bonnin and Franz Lanting
Sir David Attenborough presented the two grand title awards

American photographer Michael 'Nick' Nichols was named Wildlife Photographer of the Year 2014 by our panel of international judges for this serene black-and-white image of lions resting with their cubs in Tanzania's Serengeti National Park.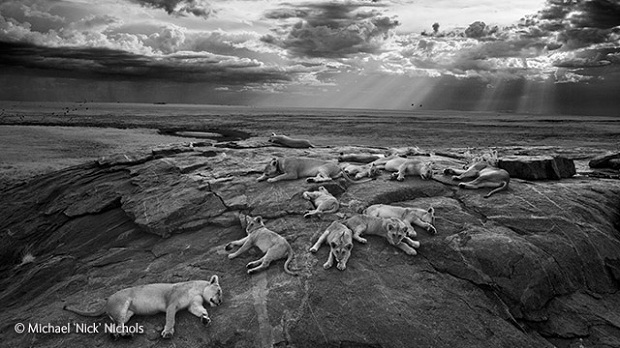 Michael 'Nick' Nichols has been crowned Wildlife Photographer of the Year 2014 for this image, The last great picture
Nick followed the pride for nearly six months, ensuring they were used to his presence as he photographed them in infra-red, which he explains, 'transforms the light and turns the moment into something primal, biblical almost'. He set out to create an archetypal image that would express both the essence of lions and how we visualise them, a picture of a time past, before lions were under such threat.
Here, the five females of the Vumbi pride - a 'formidable and spectacularly co-operative team' - lie at rest with their cubs on a rocky outcrop. Shortly before he took the shot, they had attacked and driven off one of the two pride males. Now they were lying close together, calmly sleeping.
Nine-year-old Carlos Perez Naval was awarded Young Wildlife Photographer of the Year 2014 for his image of a scorpion soaking up the Sun near his hometown in Spain.
Nine-year-old Carlos Perez Naval snatched the young title for this image of a scorpion near his home in Spain
Carlos's image shows the scorpion flourishing its sting as a warning to the young photographer, who had found it basking on a flat stone in a rocky area near his home in Torralba de los Sisones, northeast Spain. The late afternoon light was casting such a magnificent glow over the scene that Carlos decided to experiment with his first ever double exposure to include the Sun.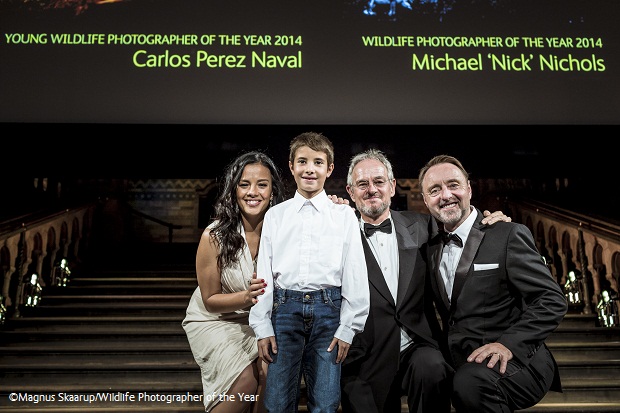 Carlos Perez Naval and Michael 'Nick' Nichols, with our hosts, Liz Bonnin and Frans Lanting.
In recognition of our landmark year, 50 extra images were selected by our jury and put to a public vote. The image with the most votes received our People's Choice Award, and it was Facebook update by Marsel van Oosten that captured most of your hearts. We received over 60,000 votes from all over the world, with around 10,000 votes alone going to Marsel's image.
Marsel van Oosten's image of a curious Japanese macaque clinched the People's Choice Award
A tourist at Jigokudani Monkey Park, Japan, was so desperate to get a close-up of this young Japanese macaque in a natural hot spring that she held her phone ever nearer to her subject. Suddenly, the monkey snatched the device from her hand and retreated to the middle of the water to examine its prize. Marsel, who was leading a photographic tour at the time, saw the chance for a striking picture.
See the entire 2014 winning collection online, or at the exhibition, opening in London at the Natural History Museum this Friday 24 October: book your tickets
Enter the next Wildlife Photographer of the Year Competition from 5 January 2015 - 26 February 2015. It's open to all professional, amateur and young photographers. See our website for more information.