Take part: WPY portfolio reviews
01 October 2014 posted by: Rosie Pook, WPY Comms Officer
As part of our season of events celebrating 50 years of the competition, we're offering you the chance to have your photography reviewed by the very best in the business.
The sessions will take place at the Natural History Museum on 23 October and are open to all professional, amateur and student photographers. Our reviewers are National Geographic senior editor Kathy Moran, BBC Wildlife Magazine editor Matt Swaine, GEO France's director of photography Magdalena Herrera, and Nature Picture Library's Tim Harris. 
But how should you prepare for a review, and what can you expect to get out of it? We asked our reviewers what they are on the lookout for, and for any other tips to equip you for the day.
What are you looking for from a portfolio?
Kathy: A portfolio review is as much about the photographer as it is about the images.  How do you carry yourself, are you engaged, can you handle constructive criticism? This is as important as your ability to make photographs. With regard to the portfolio itself, make sure you can show variety; I want to see examples of your best single images as well as examples of narrative. Purge your weakest work and be honest with yourself; it might be your mother's favourite image, but if it is out of focus it weakens your entire portfolio.
Tim: I agree; I'm looking for a tightly edited selection of your best work, showing its range and subjects you have covered in depth. And it's a must that all images are of excellent technical quality.
Matt: This is a great opportunity for me to meet a new group of wildlife photographers and hear about their experiences and exactly how they've put their portfolio together. I'm specifically looking for a coherent set of images that clearly tell a new story and give me a unique viewpoint of a particular species or wildlife issue.
Magdalena: The most important thing for me is that you can demonstrate consistency and editing skills; I'm looking for stunning, short edit of 20 images max. If I'm really interested in your portfolio, then I may well ask for more.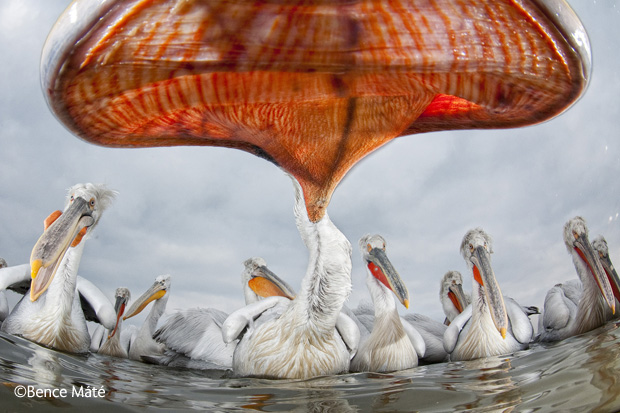 Bence Máté presented a WPY winning portfolio in 2011. He won the Eric Hosking Portfolio Award with a collection including this image of Dalmatian pelicans
How should portfolios be presented?
Matt: I'd suggest having a hard copy to hand, just in case technology fails, but images can look quite remarkable on an iPad or tablet so if you have one, and you'd like to show them this way, then please do. Just make sure you have batteries fully charged!
Kathy: I think the format isn't really important, for me it is about presentation. Keep your portfolio simple. Choose a background that recedes; don't compete with your photographs. If you are presenting as a book, keep everything on white and strive for one image per page; if you are presenting on a screen, choose black. Avoid white or black edges around your photographs. Don't overlap images. Let the photographs take centre stage.
Should people bring material to leave with you?
Magdalena: It's a good idea to have a short synopsis to hand if you are presenting a photo feature. I'm always looking for fresh photo stories for GEO, and this way I can revisit your work anytime.
Kathy: I don't mean to sound ungracious, but as I'm traveling, please don't bring books for me. I'd rather have a link to your work or cd of images to take away.
Matt: As I'm based in the UK, I'd love people to leave a hardcopy of their portfolio with their contact details. In return I'll make sure I have copies of the magazine and you'll find my contact details inside. I'm always keen to hear from people, so keep my email safely stored away and drop me a line anytime in the future.
Vladimir Medvedev won the Eric Hosking Portfolio award in 2012 with a collection including this landscape shot in Peyto Lake in Banff National Park, Canada
Are there any definite 'don'ts' that photographers should be aware of?
Kathy: No gimmicks. I am not really interested in someone's Photoshop prowess. What will impress me is how you see, how you tell stories.
Tim: Definitely don't include images with sharpness or exposure issues, or any images of unidentified species.
Magdalena: It's best to stick to content relevant to our expertise, so please don't bring an unrelated portfolio or feature, for example one that doesn't depict the topics we are interested in (nature, wildlife, environment, etc.)
…And what about the 'dos?'
Magdalena: Do plan ahead and be brief and clear about what you are presenting, that way you will have more time to listen to the reviewer's feedback
Tim: Do try to show how your work stands out from the rest and to focus on rare or unusual subjects, especially if you have studied or photographed them in depth. If you are considering a submission to a commercial agency, ask yourself how each image you supply would be used and what point it is making  – if you can't see a reason why someone would reproduce it, then it is unlikely to sell.
Matt: Do read BBC Wildlife Magazine before you turn up and make sure you have a clear idea of who the reader is and the kind of photography we use. Make sure you've looked at our website as we are increasingly featuring professional photographers here, as well as giving our community the opportunity to share their photography with other people. And make sure you've got a list of any questions you want to ask.
Connor Stefanison is the reigning Eric Hosking Award champion, he won in 2013 with a collection including images of barred owls taken near his home in Burnaby, British Columbia
Any last tips or suggestions?
Kathy: Most importantly, relax! Remember that a portfolio review is about helping you move forward with your photography.  It is not about getting an assignment or making you feel bad about your work. It is always in the interest of helping you grow as a professional.
Tim: Research coverage on photo agency websites before presenting/submitting material, to see how it compares to the wider market. Also keep an eye on articles and features in your specialist subject area in books, magazines, online etc. to get a feel for which subjects and styles of image are popular.
Matt: Most of all… relax and don't worry. I'm really keen to meet you all and looking forward to hearing about your work.
Portfolio review sessions will take place in the Wildlife Photographer of the Year exhibition at the Natural History Museum on 23 October 2014 between 14:00 - 17:00. For more information and to book visit the website.
ABOUT THE REVIEWERS
Kathy Moran
Kathy is a multi-award winning picture editor for National Geographic and has been producing feature stories about terrestrial and underwater ecosystems since 1990. Kathy has edited more than 200 stories for the magazine.
Magdalena Herrera
Magdalena is currently the director of photography of GEO magazine in France. Before that she was art director and head of photography of National Geographic France. Magdalena lectures in photojournalism at École de journalisme de Sciences Po in Paris and Jamia Millia Islamia University in Delhi.
Matt Swaine
Matt is the editor of BBC Wildlife Magazine and has written about the natural world for over 12 years. He has previously worked for Lonely Planet in Melbourne and as a lecturer in journalism at Cardiff University.
Tim Harris
Tim is sales and marketing manager at Nature Picture Library. Prior to joining the company in 2009, Tim managed the sales team at Photoshot and was manager of the NHPA collection for more than 20 years. He has judged several major nature photography competitions.