In profile - Jim Brandenburg: On wolves and orchids
12 September 2014 posted by: Rosie Pook, WPY Comms Officer
In the latest of our series profiling the masters of nature photography, Jim Brandenburg, the WPY 1988 grand title winner and now chair of the WPY judging panel, takes us on a personal journey of his life's work.
In July 2010, I was wandering through a prairie near my childhood home of Luverne, Minnesota, when I spotted a feathery whiteness among the grasses. It was a prairie fringed orchid - a rare native plant that hadn't flowered here for maybe a hundred years.
I was thrilled. We (myself, family and old friends who were now successful local businessmen) had set up the not-for-profit Brandenburg Prairie Foundation back in 1999, eventually acquiring 1,000 acres. Since then, we had tried to coax this heavily grazed (but unploughed) and barren land back to the biodiversity-rich prairie it once was. The delicate orchid was evidence that we had succeeded. As proceeds from my photography had helped to set up the Foundation, to me, it was proof that my work had achieved some tangible environmental good. It was one of the proudest moments of my life.
I grew up in a rural family in Minnesota, a painfully shy child. I was artistic and musical and, starting on stage at the age of 14, I later found myself playing back-up guitar for Chuck Berry and The Everly Brothers. It was terribly exciting, but the hard-party lifestyle was more than I could cope with. Plus I had a bit of stage-fright. So, aged just 19, I turned my back on rock-and-roll.
I was 17 when my first picture was published. I didn't get a credit, I didn't get any payment, but I didn't care: the image (of a forest fire) was front page in the Denver Post. I then went to college in the small town of Worthington, Minnesota, which happened to be home to one of the most successful and respected local newspapers in the world, The Worthington Globe. I ended up working there for 15 years, getting a grounding in photojournalism that would serve me well for the rest of my life.
Jim won the 1988 WPY competition with this image of an oryx in the Namib desert.
One day, I forced myself to pick up the phone and call Bob Gilka, who was head of photography at National Geographic. I told him that if he ever needed a local photo, I might be able to help. There was a long silence, a curt answer, and the line went dead. Mortified, I set aside my dreams of getting into the magazine.
Months later, I received a call from their foreign editor, who was in the area and wanted to drop in. I quickly knocked up a light-box out of old bits of lumber and that, basically, was the start of an 30-year stint with National Geographic.
One of the highlights of my career was spending three summers following a pack of Arctic wolves on Ellesmere Island in north Canada. I have always said that if a country is wild enough for wolves, then it is wild enough for the human spirit. I became obsessed with the wolves and the resulting images formed the most important story I will ever do. I will always look back on my time spent on Ellesmere with great love.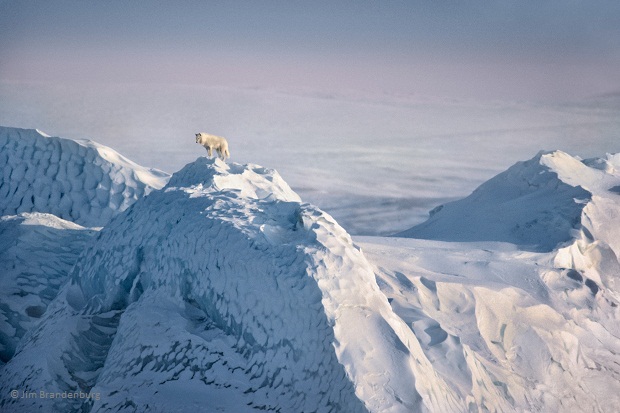 'Ice wolf' is one of many images Jim shot on Ellesmere Island.
Given how much time I spent with them, it's ironic that my most famous image was from the briefest of encounters. I had barely a second or so before this gray wolf melted back into the woods, but the image sums up how I feel about nature photography: that I am peeking round a door into a mysterious world, never knowing when the door will close. I am now happy to be something of a spokesman for wolves and increasingly involved with the politics of conservation.
This image, 'Brother Wolf', is one of Jim's most well known.
National Geographic was also very hard work. You are only as good as your last assignment, and I felt increasingly depleted. I craved space, solitude and simplicity. One day in 1994 I decided to stop taking on assignments.
I didn't want to stop taking photographs - I just didn't want to make them for anyone else. So I went to my log cabin and set myself a challenge. I had become used to shooting sometimes thousands of frames a day, to squeezing every possible last drop of potential out of a subject, to bracketing, zooming in, pulling out, to the breathless click-click-click of the motor drive. Now, I would do the opposite. For 90 consecutive days, I would take just one, single image a day. No more, no less.
This meant engaging with nature in an intense way that I hadn't experienced for a long time, doing everything in my power not to waste that shot. Most of the images are not particularly great. But that didn't matter: it was the taking of them that was my goal. They were simply the daily sign-posts that slowly and steadily directed me back towards myself.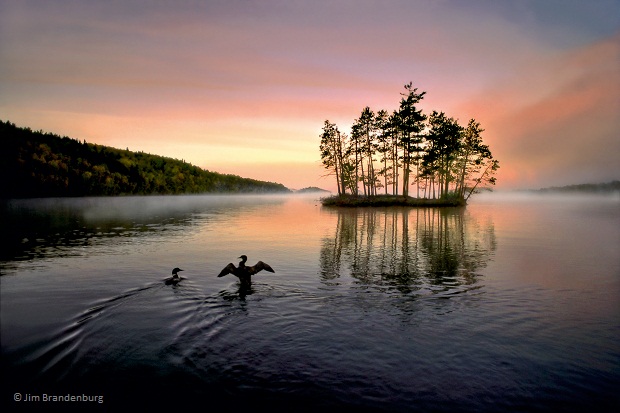 Jim's image, 'Chased By the Light, Day 10', from his 90 day project.
When I was done, I went home and put the images in a drawer. And that is where, for the next two years, they stayed.
One day a colleague from National Geographic called in. He took my images back to Washington, and the next day I received a call that changed my life. The editor, Bill Allen, wanted to publish the entire set as a cover story in the next possible issue - all 90 images.
I was astounded. And I also felt quite conflicted, as the project had been so deeply personal, and I feared being 'found out' if they were seen by 40 million people. But the story about the restorative powers of nature combined with self-discipline seemed to strike a chord. When the images (and then the book, Chased by the Light) were published, the reaction was extraordinary. I have boxes and boxes of deeply moving correspondence from people telling me how it changed their life.
These days, I'm very busy with talks and exhibitions. I carry a camera with me all the time, but it's usually a small, discreet one, as I don't want to feel intrusive. The resolution might not be as good, but working with lighter, simpler equipment makes me much more able to respond to opportunities. Instead of selling to magazines, I now sell through my two galleries and exhibitions in Europe. There's something deeply satisfying about the thought that someone may hang a print above their hearth and enjoy it for years to come, that my work is good enough to grace a private gallery I will probably never set foot in. That's the greatest accolade.
Jim's tips
Enter the WPY competition. Though the jury members have to sift through thousands of entries, they recognise an outstanding image when they see one.
Find joy in nature photography by doing it for yourself. If you can do some good for the planet with your images, you will feel great.
Find a mentor. I was extremely lucky because I had several people who nurtured me and helped me develop my skills. Without them, I would never have had the success that I have.
The only way you can be ready to act on a moment of inspiration is if you've put in the hours and done the groundwork. Then those two things - luck and experience - will have the chance to coalesce in the same instant.
Study art and artists. I was heavily influenced by the French Impressionists and Japanese Masters, but learning about any school of art will improve your photography.
Jim's work is featured in two books published by the Museum, The Masters of Nature Photography: Wildlife Photographer of the Year, and 50 Years of Wildlife Photographer of the Year: How Wildlife Photography Became Art.
ABOUT JIM BRANDENBURG
Jim Brandenburg has received many prestigious national and international awards, including the WPY grand title in 1988, the National Press Photographers Association's Magazine Photographer of the Year award (twice), World Press Photo, a Lifetime Achievement Award from the North American Nature Photographers Association and the World Achievement Award from the United Nations Environment Programme.
Four of his images featured in a set of the 40 most important nature photographs of all times. His bestselling books include Chased by the Light, Looking for the Summer, Brother Wolf, White Wolf and Minnesota Images of Home.
The Brandenburg Prairie Foundation (BPF) was established as a non-for-profit organisation in 1999 in southwest Minnesota to raise funds for prairie conservation.
More information about Jim Brandenburg can be found on his web page www.jimbrandenburg.com