In profile - Christian Ziegler: framing science
29 July 2014 posted by: Rosie Pook, WPY Comms Officer
In our latest post celebrating the masters of nature photography, photojournalist Christian Ziegler tells us how he uses photography to explore concepts such as ecology, evolution and conservation, and shares his experience judging the 50th competition.
The only nature near my childhood home in South-west Germany was a rather boring beech wood. But we did go on walks in the Palatinate Forest, which is one of the biggest forests in Europe, and so I began to learn a little about local ecosystems, and my interest in biology emerged that way. Then, when I was 19 and studying biology, I went on a field trip to Thailand. The tropical rainforest completely blew me away; in a strange way, it felt like I was coming home. That's when I first started carrying a camera around with me, as that was the best way to record the astounding things I was seeing. I didn't really know what I was doing, so I took a lot of bad pictures! But from that moment I was hooked on rainforests, and telling their stories.
As a student of tropical ecology, I had great opportunities to see more of the tropics: I went on more field trips to Thailand, the Ivory Coast, and ended up in Panama at the Smithsonian Tropical Research Institute (STRI), doing fieldwork on Barro Colorado Island. I continued to carry my camera around and gradually taught myself more about photography - it wasn't long before I was spending more time taking photographs than collecting data.
Barro Colorado Island is an amazing place for natural history, and the STRI is something of a global epicentre for tropical ecology, but I soon realised that a lot of their important research was getting stuck in scientific journals and wasn't being shared more widely. So I hit on the idea of persuading some scientists to find some part-funding for me to work with them: they got images to help disseminate their work, and I got to go to spectacular places, taking images of fascinating creatures and new, unseen behaviour, all the time telling a much bigger story of the importance of healthy natural environments.
In the rainforest, light is often a problem. I analysed the work of lighting masters such as Michael 'Nick' Nichols and Frans Lanting, learnt by trial and error, and was soon devising my own techniques and equipment. My first story, about leafcutter ants, was published in GEO in 1997.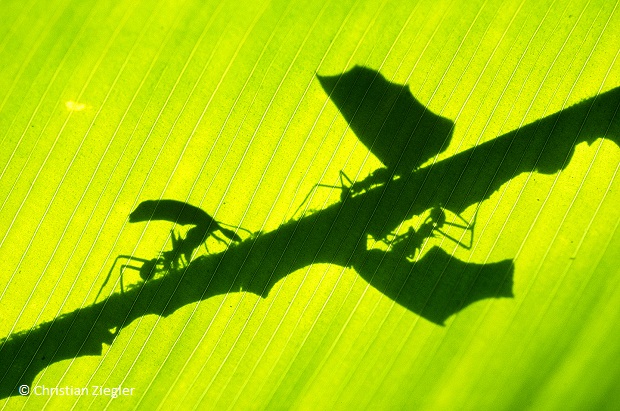 Christian's first published story was on leafcutter ants and appeared in GEO in 1997.
I became increasingly fascinated by concepts in natural history such as evolution, biodiversity, camouflage, mimicry, and relationships between species. Bees and orchids, for example, go back millions of years; their relationship is like a dance. Flowers and insects are still interacting, still influencing each other. For evolution, the dance never ends. I realised that photography could do so much more than share the image of an organism - it could translate those relationships; it was a way to make concepts tangible. I think my image of a hummingbird pollinating an orchid captures this intimate relationship between two species.
This image captures the intimate relationship between species, says Christian.
These relationships exist in so many different forms. The cassowary, for example, has an extraordinary connection to a fruit that is poisonous to most animals, but which cassowaries can eat without harm. The seeds appear to grow better if the fruit has passed through the bird's digestive system - hence its name, the cassowary plum. This image captures both the aesthetic relationship between the blue of both species, as well as their ancient symbiotic relationship.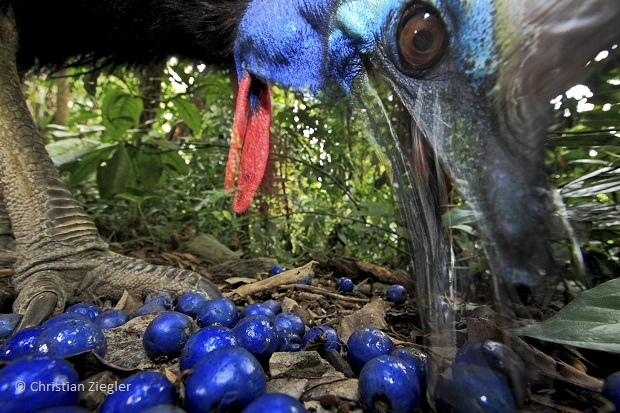 The cassowary plum is poisonous to most animals but not the cassowary.
My first involvement with the Wildlife Photographer of the Year Competition was in 2004 when one of my images won an award. It was a truly pivotal moment for my career and it meant I caught the eye of National Geographic and I began working with them the following year. My stories since have been about creatures big and small, such as iguanas, army ants, red-eyed tree frogs and tropical bats.
But they all share a common theme: a message about species and places that we risk losing unless we are more thoughtful. This image of a bonobo, taken in the Democratic Republic of Congo, is about that critical relationship that we have with other living beings, and the responsibility that goes with it.
Christian's image of a bonobo is about the critical relationship humans have with other beings
My next assignment is to photograph fig trees all around the world, and the wildlife associated with them. But the story isn't really about fig trees; it's about biodiversity. I'm going to use fig trees as a repeated motif to show how biodiversity is equally diverse and equally unique in rainforests all over the world, but that the cast of characters involved varies depending on whether you're in Gabon, Borneo, Queensland or the Amazon.
I was absolutely delighted to be invited to be on this year's Wildlife Photographer of the Year jury. It is an honour and a way for me to give something back to our community of thousands of people who are out there, documenting how amazing our planet is.
Living through the judging process was illuminating, particularly realising just how many different elements we needed to pay attention to, from subject matter and technical ability through to originality and aesthetic qualities. In some categories, the best images were immediately clear to all of us, in others, they emerged over time and through discussion. We learned from each other, too. I'm used to considering images within the context of stories, and so it was interesting to have to think about what makes a single frame truly great. The competition is such an important part of the year for those of us in this field, it is always wonderful to see the awarded images and I'm lucky to have had an early view this year!
The competition will always be at the forefront of nature photography by featuring fresh images that are possible only because of technological innovation. Many of the images winning today simply could not have been taken even just three years ago. But it's also about so much more than technology, because whether you are just starting out or have established your name, this is the one place where neither age nor reputation matter - the only thing that matters is the quality of your work. It will be fascinating to see just what tomorrow's photographers achieve.
Christian's Tips:
There are so many incredible stories out there to tell, and a huge demand for science to be translated into accessible material. Find out what scientists at your nearest university or college are researching and offer to help them document their fieldwork.
If you have a background in a relevant topic such as tropical ecology, entomology or marine biology, this can be a useful way of persuading researchers in those fields to welcome you into their world, as you will be able to tell their stories in an informed way.
Think of yourself as an interpreter. How could you communicate what a scientist is doing to the general public? How could you help the scientists themselves more visible and accessible to the public? Do they need images for talks or presentations?
Think hard about how you can condense one story into a single frame, because that's the main challenge.
Christian's work is included in the book The Masters of Nature Photography: Wildlife Photographer of the Year, published by the Museum.
ABOUT CHRISTIAN ZIEGLER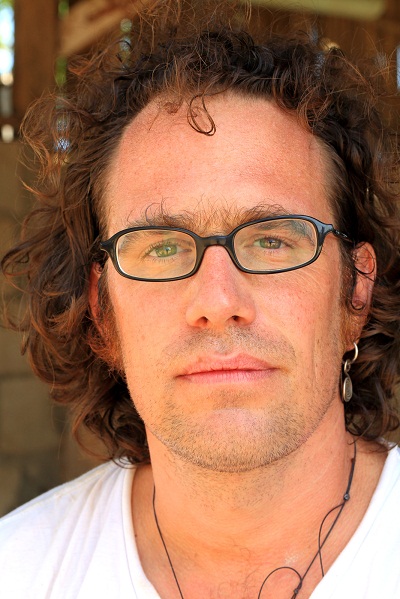 Christian Ziegler is a photojournalist specialising in natural history and science-related topics. He has been a regular contributor to National Geographic Magazine since 2004. His work has also been widely published in other magazines. His photography has featured in two books, A Magic Web (2002) and Deceptive Beauties (2011). A tropical ecologist by training, he has worked in tropical rainforests on four continents, and since 2000 has been Associate for communication with the Smithsonian Tropical Research Institute (STRI) in Panama and is a founding fellow of the International League of Conservation Photographers (www.ilcp.com).
Christian's work has been awarded prizes in international competitions, including Wildlife Photographer of the Year, European Wildlife Photographer of the Year and two World Press Awards. As well as his editorial work, he also photographs for science organizations (such as Smithsonian and the Max-Planck Society), for NGOs (WWF, Conservation International), and for museums. He lives on the edge of a rainforest National Park in Central Panama and is currently working on several magazine assignments and book projects.