50 Years of WPY - the 1960s: an auspicious start
18 July 2014 posted by: Rosie Pook, WPY Comms Officer
Ethics, conservation, prestige and an international reach... many of the elements that define Wildlife Photographer of the Year today were present from the very start, half a century ago. Our series exploring the history of the competition begins with its launch in the swinging sixties.
The 1960s saw a huge growth in the UK in public curiosity about nature, fuelled by the development of natural history broadcasting on the BBC. It led to the birth in 1963 of the highly illustrated Animals magazine (later to become BBC Wildlife Magazine), fronted by wildlife television film-makers Armand and Michaela Denis. For its first two years, Animals, initially a weekly magazine, ran a photography competition featuring images of wild, captive and companion animals.
When Nigel Sitwell took over as editor in 1964, he saw the potential for creating a bigger, international wildlife event; and so the Wildlife Photographer of the Year was officially launched. The competition's stated purpose was:
'to encourage the work of wildlife photographers and enhance the prestige of wildlife photography... in the hope that ultimately the awards will benefit the animals themselves, by creating greater public interest in them and in that all-important topic - conservation'
This stance has changed little in half a century.
"It's perhaps hard to grasp just what a novelty a wildlife photography competition was 50 years ago, given how mainstream, accessible and popular nature photography is today," says Rosamund Kidman Cox, editor of BBC Wildlife Magazine from 1983 to 2004. "It was the first event of its kind; truly ground-breaking."
The competition's first grand title winner, C V Roger Dowdeswell, receives his award from David Attenborough
The time was right for a nature photography competition, for a number of reasons. There was a public demand for images - at the time, there were comparatively few books about nature or the environment around, and none of the glossy coffee-table books available today - and the magazine needed to find, and encourage, photographers taking colour images.
Flora and Fauna International had been formed way back in 1903, but it wasn't until the late fifties and early sixties that conservation issues began to spread more widely into the public consciousness, with key, charismatic individuals at their helm. Though the environmental movement was still in its infancy, charismatic naturalists such as Peter Scott, who had founded the Wildlife and Wetlands Trust in 1946 and who had been instrumental in the launch of the World Wildlife Fund (WWF) in 1961, were becoming increasingly visible and vocal.
Then there was the technology: colour slide film had recently become available, and though it was initially expensive, it became more affordable during the 1960s. The technology was still comparatively basic. Through-the-lens metering wasn't an option (you had to guess the exposure), and auto-focus was still more than a decade away. Failure rates were extremely high. There was no opportunity for any instant feedback in the field, as the roll of film (with its precious 24 or 36 exposures) had to be sent off for processing, and it would be weeks before the slides came back.
The competition initially offered two sections (Britain and Overseas), each with three categories (Birds, Mammals, Other Animals). There were few rules and initially many of the images were of companion or captive animals, though this would soon change. It attracted around 500 entries, many of them from overseas, thus reflecting the international reach of the magazine, particularly in English-speaking countries in Africa and Southeast Asia in those early post-colonial years.
Wildlife Photographer of the Year received the crucial support of the biggest names in natural history from the very start. One of these was pioneering bird photographer Eric Hosking - the most well known wildlife photographer in the world at the time - who headed the judging panel.
Eric personified the competition's ethics, which endure to this day. In his autobiography An Eye for a Bird, he writes of his strong objection to "unscrupulous methods" and "dishonest photography" and the "objectionable practice of passing off as 'wild and free' an animal that is neither", a position that is still integral to the competition today.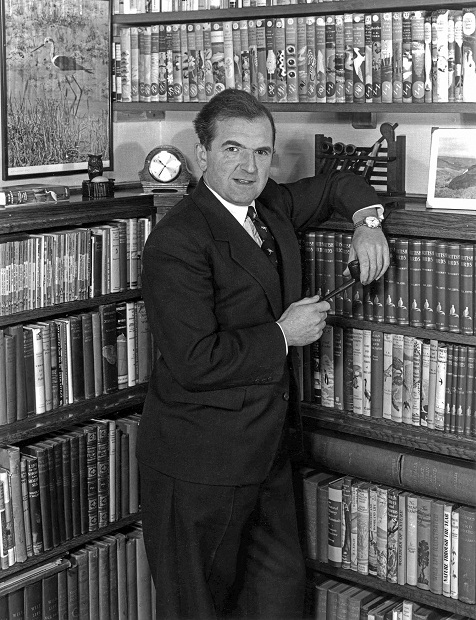 Eric Hosking in his library
His son, David, remembers one judging session with great clarity, as it took place in the family home in London.
'I came home from school and slipped into my father's study, a large front room lined with bookcases. The heavy curtains were drawn tight to make it as dark as possible. The slide projector was on, and my father was projecting each image onto the wall. In the room with him were Nigel Sitwell, along with two other photographers, John Markham and the naturalist Michael Tweedie.

I knew that these were some of the most knowledgeable people in the world assessing the very best wildlife images in the world. I sat there, listening intently, as they pored over each and every one. It was hugely exciting. My father knew that winning this competition could change someone's life forever, and he took it extremely seriously.'
Eric's diary entry for the first panel (Thursday 28 October 1965) reveals a particularly busy day, where he managed to squeeze in a visit to Buckingham Palace before judging the competition in the afternoon.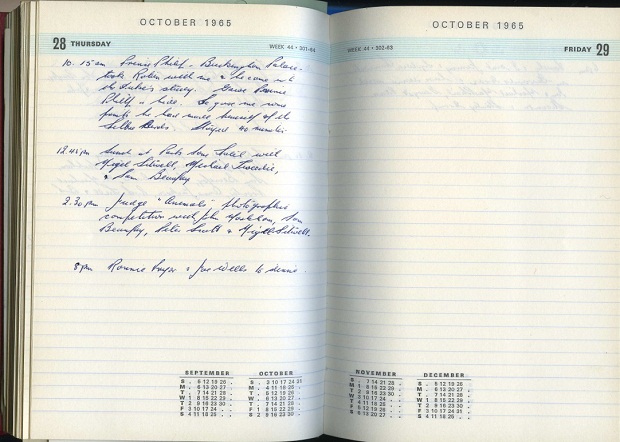 An extract from Eric Hosking's diary from October 1965 reads: '2.30pm Judge "Animals" photographic competition with John Markham, Sam Beaufoy, Peter Scott & Nigel Sitwell
The first ever competition grand title was awarded to C V Roger Dowdeswell for his colour picture of a tawny owl carrying prey to its young. It was taken on a Kodachrome II, using a Mamiya Prismat NP - one of the early single-lens reflux (SLR) cameras - with an open shutter at f11, using a home-made flash unit with three heads.
C V Roger was presented with his award by David Attenborough (who, upon hearing a lecture Eric Hosking gave at his school, wondered whether he, too, might devote his life to natural history).
As well as David Attenborough, early presenters included Peter Scott (who was also a judge), Virginia and Bill Travers (stars of the 1966 film Born Free) and the artist and conservationist David Shepherd, whose involvement, interest and support was a massive incentive to aspiring photographers, and whose endorsement helped spread the word among the press and wider public. "There were no associated events, books or exhibitions, but the press and publicity that was generated even then allowed these photos to be seen by a wide audience," says Roz.
From the outset, technical ingenuity proved advantageous in the competition, as a young engineer from South Africa called Anthony Bannister, remembers. "I wanted to photograph small creatures - spiders, scorpions, wasps, stick insects and so on - but most cameras couldn't get any closer than about a metre. Luckily I was quite good at making little bits of gadgetry to go on my Exakta camera," he says. "I built my own flash units, and I managed to adapt lenses so that I could zoom in a lot closer, which gave me an edge over other photographers at the time."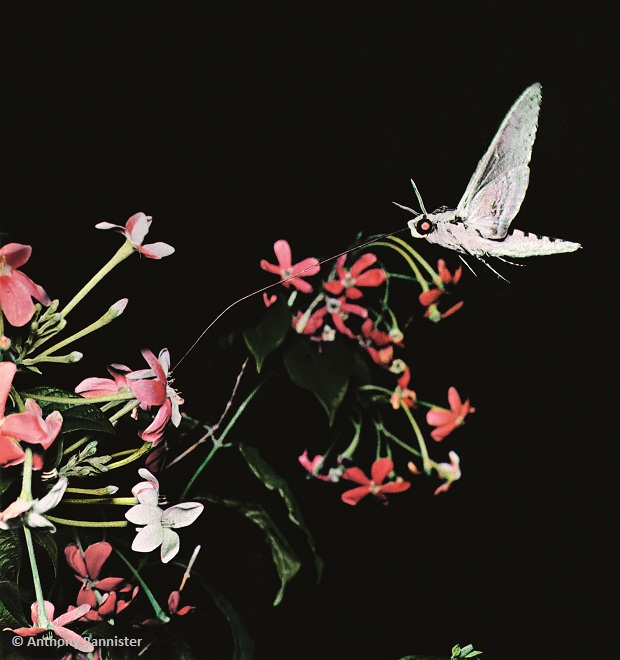 Anthony Bannister's image of a convolvulus hawkmoth won the second Wildlife Photographer of the Year competition. It was taken with a hand-held large-format camera and homemade flash and power unit
Anthony vividly remembers the evening he used his home-improved camera to photograph clouds of moths hovering around scented tobacco plants at a neighbour's barbeque. He submitted the best one to the Wildlife Photographer of the Year, which was then in its second year. The letter he received from Nigel Sitwell telling him he had won changed his life. Says Anthony:
'The awards evening in London was pivotal to my whole career. I was introduced to Spike Milligan from The Goon Show and to Michael Tweedie, who became a great friend. Everyone was so encouraging. And I met L Hugh Newman, who had just set up what he called a 'picture library' - it was literally a stack of shoeboxes full of transparencies in his spare room. He asked me to let him market my images. When the cheques started to come in, I realised with amazement that the photos I enjoyed taking so much were actually worth something. I was able to leave my job and launch myself into the world of professional nature photography.'
(That little picture agency was the Natural History Picture Agency; it's still going strong today.)
The competition quickly proved that talent was out there, and gave up-and-coming photographers like Anthony somewhere to showcase their work. "It offered anyone interested in nature photography an extraordinary opportunity: a forum to gather, share information, compare their work, and the chance for their images to be judged by experts," says Roz.
Swedish photographer, Peter Ugander, won the competition in 1968 with this image of a young pelican taking off from Kenya's Lake Naivasha. It was taken with a Canon SLR and a 300mm lens, using Ektachrome X, a transparency film
As the early years of the competition were largely focused on documenting species, behaviour and events, for those who could offer the first-ever photographic records of this kind, it was a wonderful opportunity. So it's little surprise that it attracted scientists - skilled amateurs who knew their stuff but could also find their way around a camera. But the transformations in technology, travel opportunities and accessibility that were around the corner meant that wildlife photographers would later begin to consider aesthetics and emotion, message and meaning.
The Wildlife Photographer of the Year competition had, by the end of the 1960s, become an established annual highlight for nature photographers and the nature-loving public around the world. It was an extraordinary start.
50 Years of Wildlife Photographer of the Year: How Wildlife Photography Became Art
A commemorative book charting the history and development of wildlife photography, edited by Rosamund Kidman Cox, will be published by the Natural History Museum in September 2014. Read more about the book here.
ABOUT ROSAMUND KIDMAN COX
Roz Kidman Cox was editor of BBC Wildlife Magazine for 23 years and a WPY competition judge for 32 years. She re-launched the Wildlife Photographer of the Year competition, together with the Natural History Museum in 1984, adding the young categories that still exist today. Roz also edits the annual competition Portfolio and associated WPY publications. Alongside her long-standing involvement with Wildlife Photographer of the Year, Roz also works on a variety of projects exclusively with nature and environmental photography and publishing, including producing the Wild Photos symposium every year.