Field Diaries: Andrew Walmsley in Sulawesi - part two
04 April 2014 posted by: Rosie Pook, WPY Comms Officer
WPY finalist, Andrew Walmsley, is now three weeks into his field assignment in Sulawesi, Indonesia. Andrew's partnering with NGO, Selamatkan Yaki, to photograph and document the lives of the island's crested black macaques. We catch up with him to find out how he's getting on. Has he finally got the canopy shot he was after? Read on to find out:
If you've been following the blog so far you'll know that, along with my cameras and lenses, I packed rope and a harness for my journey to Indonesia.
Having spent two years planning, dreaming and honing my tree-climbing techniques, today became the day I finally realised my long-held ambition of photographing monkeys from a slightly different perspective than usual, by climbing 50 feet up a tree in Tangkoko Nature Reserve, North Sulawesi, to meet them at their own level.
After getting out of bed at 4 am, I trekked through the forest by the light of my head torch to make sure I didn't miss the monkeys before they moved on to forage elsewhere. I set up my gear, ascended a tree and sat there for a few hours, until a lone male came wandering past, foraging around the base of the tree for 20 minutes or so. He stayed on the ground, then climbed a tree far away before disappearing.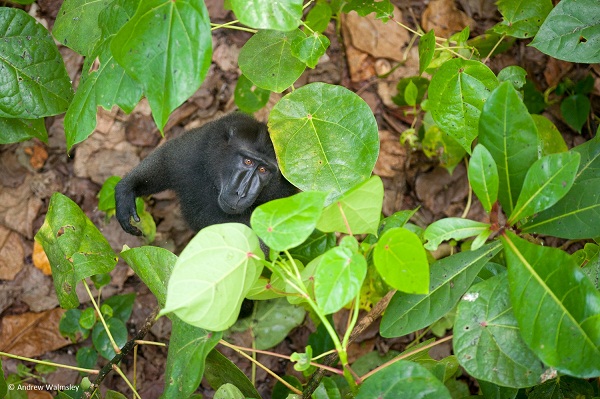 As Harry (my Selamatkan Yaki colleague) and I were both feeling pretty hungry and tired, we decided to call it a day. I descended, coiled my rope, packed up and started heading back, happy that it had worked, and that the morning had been enjoyable and relaxing. That was when the rest of the monkeys arrived.
It started with just one. But this wasn't just a lone male, it was a whole group. One by one they appeared, moving swiftly through the forest, straight towards the tree that I had just hugged and kissed goodbye. A few glances between us and we were marching back, cursing our impatience. I pulled my phone from my pocket. Five messages from the researchers, 'on their way to you now', 'getting close to you', 'I hope you're ready'  Why didn't I check my phone before leaving the tree? I have never, in all my life, felt so stupid.  Back at the base of the tree, I hurriedly assembled my assortment of ascenders, ropes, carabiners, cameras, all the while cursing my stupidity. Why didn't I check my phone? WHY?
Some rustles in the undergrowth betrayed the monkeys' arrival. First throw: miss. Second: miss. Third, fourth, fifth, sixth: all miss. Again and again I threw the rope, going wide of the target every time. Monkeys surrounded us now, picking through the trees, occasionally glancing at the drama below.
Sweat poured down my furrowed brow as throw after throw missed the mark. I tried the throw bag with some thin line, only to get it stuck, went back to the rope, and missed again. About to give up and watch my opportunity slide away, I managed to swallow my panic and finally made my mark. Click, click, heave, scramble, I hauled myself skywards, careful to stay on the correct line and climb safely, but using the adrenaline to make every move count. I'm not sure I've ever climbed so quickly. Back at the top, I called to Harry to tie on my cameras, hauling them as soon as his knots were fast. The monkeys were all around me by this time, picking through the leaves for morsels of food, still not fazed by their relatives unexpectedly coming to lunch.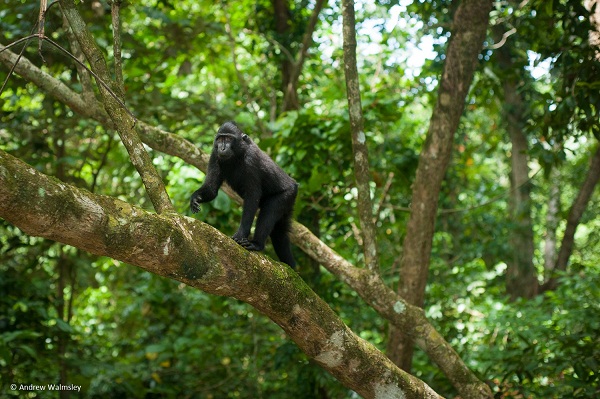 The next hour was amazing. I was treated like a part of the furniture, another being going about his day in the canopy. Nobody tampered with my equipment, nobody showed any fear, no aggression. Just acceptance. It doesn't matter that many of my photos missed focus. I was just there.  After an hour they moved on, drifting back into the forest. I stayed, exhausted and tethered to my tree. Slowly I descended and hugged Harry.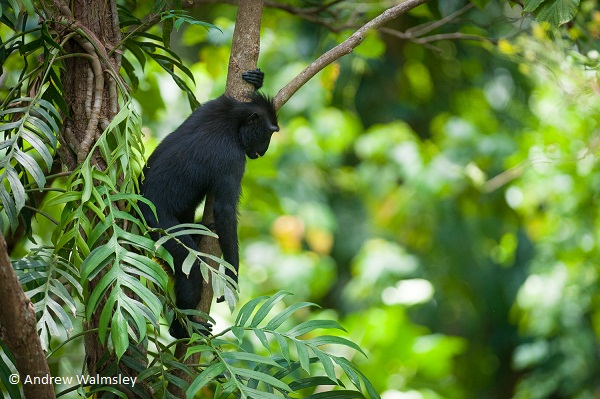 Asked about the experience immediately afterwards, I described it as amazing, gutting, frustrating, exhausting, annoying, exhilarating and incredible.  It also taught me, beyond any doubt, that everyone has to see wildlife in its natural environment. Looking through some of the pictures that I did manage to get in focus, there is something different to them. I'm not sure what it is yet, but I know that the tree and those monkeys will stay with me, and influence my work, for a very long time.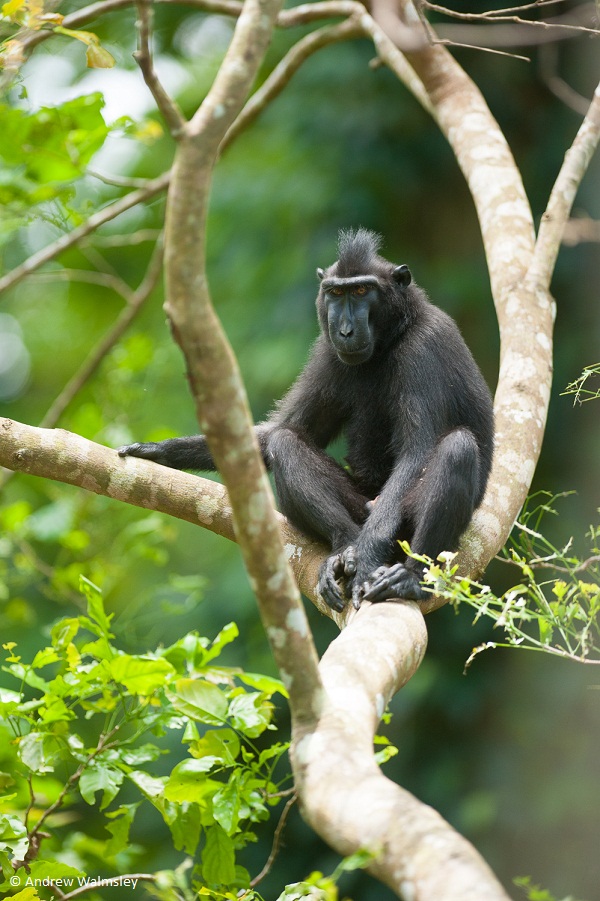 ABOUT ANDREW WALMSLEY
Andrew discovered an interest in photography while working in Wales in 2005 to compile a photo ID catalogue of a group of bottlenose dolphins; Andrew's interest was far more focussed on being with the animals and capturing images of their lives than doing the science. He then moved to New Zealand, cutting his teeth on the eclectic wildlife that inhabits the islands, and becoming particularly obsessed with the mountain parrot, the kea. This resulted in an article for BBC Wildlife, demonstrating how mutually beneficial it can be to form close partnerships with NGOs, allowing them to use images free of charge to spread their message and reach as wide an audience as possible.
Andrew's recent work primarily focusses on primate conservation issues. He has worked in Peru and Indonesia, photographing everything from lorises to orangutans, and is currently perfecting the techniques used by tree surgeons in an attempt to gain a monkey's eye view of the world.