Story behind the image: Zig Koch
27 March 2014 posted by: Rosie Pook, WPY Comms Officer
We speak to Brazilian wildlife photographer and conservationist Zig Koch about the story behind his 2013 commended image, Race for life, and discover how a career in architecture can form the building blocks of a life as a nature photographer.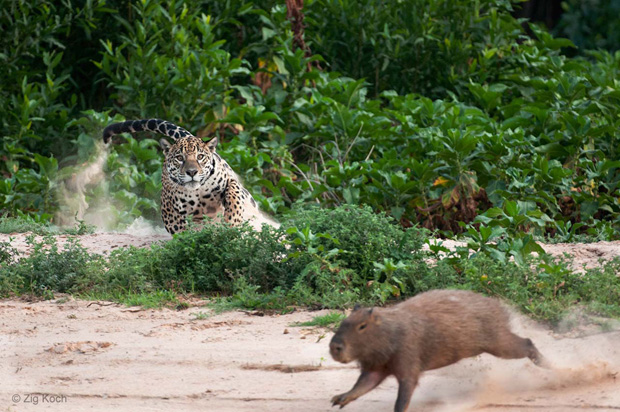 Race for life by Zig Koch, Brazil
Location: Rio Cuiabá, Mato Grosso, Brazil
Category Behaviour: Mammals, Commended 2013
How did you get involved in wildlife photography?
I originally trained as an architect, then I worked in town planning. But I've always been fascinated by wildlife. I spent much of my spare time studying nature. I realised that most people don't really understand wildlife - what it is, what it means and the importance of nature. I want to have an impact on as many people as possible, which is why I changed careers to wildlife photography.
How has your background influenced your work?
My grandparents and mother were all painters, and so I grew up hearing about the importance of composition, and of course that's important also in architecture. If you understand the universal rules of composition, you learn to see things differently, the quality of your vision is better, in a sense. You see the scene in front of you, the raw diamond if you like, then you use your understanding of composition to transform the scene into something priceless: a high-quality photograph. I think that beautifully composed images have the potential to influence the way people think and behave.
So how does this image do that?
People might not know much at all about jaguars, or they might already have an opinion about them that is perhaps negative, or romanticised. The composition here means that you look almost straight at the jaguar's face. You can see the emotions in its penetrating eyes: the determination and the concentration. In the images that come just after this one, the jaguar's expression changes dramatically as it realises that it has failed. It skids to a halt in the sand, its eyes and ears down, and you can see its emotions change, frame by frame.
People don't always want to see harsh shots of predators killing, and the fact that people know that the capybara escaped helps them feel more sympathy for the jaguar. So though it's a dramatic and intense image, it's also emotionally positive. I hope this image triggers admiration for both animals, but also to understand more about jaguars.
What other skills helped?
I know how jaguars behave. I know how capybaras react. So I was able to anticipate what was likely to happen. It wasn't easy to follow the action, because it all happened so fast, but I had done everything I could to increase my chances of getting a good image.
In wildlife photography, you really need to understand wildlife, and you need to plan. I had researched where to look, and I spent a week watching this jaguar from a boat on the river, working from sunrise to sunset. And when I realised what might be about to happen, I got the boat into the right position and quickly set up my equipment in a way that maximised my chances of getting a good image. So though I was very lucky to see it hunting, it was preparation, patience, understanding behaviour and technical skills that meant that my moment of luck wasn't wasted.
Is there anything else you'd like to say about this image?
When you take a photograph, you must think about the emotions that it will provoke. If people get a good feeling from an image, that is more likely to help them understand nature. That was my goal in submitting this image to the Wildlife Photographer of the Year competition.
Do you have a message for other wildlife photographers in Brazil?
To any fellow Brazilians who aspire to become wildlife photographers:
"Creio que os principais fatores para se tornar um bom fotógrafo de natureza são: amar a natureza, estudar as relações de equilíbrio que existe na natureza e ter muito respeito pelo objeto de suas fotos, sejam paisagens, plantas ou animais."
Translation:
"I believe that the main factors for becoming a good nature photographer are: a love of nature, an understanding of ecosystems and a lot of respect for what you are photographing, whether landscapes, plants or animals."
ABOUT ZIG KOCH
Zig's interest in photography started when he was a teenager and began to get involved with environmental conservation in his native Brazil. Over the years, he ventured deeper and deeper in the photographic art. Zig graduated in architecture in 1982 and worked during four years with urban planning. But, in 1986 decided to join his two greatest passions, photography and the environment. He has organized a number of photographic expeditions to the Brazilian biomes, and has participated in expeditions in partnership with Brazilian and international non-governmental organizations. Zig also lectures on the environment and photography. He has had many individual exhibitions and several books published, including South of Brazil: colours and feelings, with Rubens Chavez.