In profile - Pal Hermansen: Invisible ink
21 February 2014 posted by: Rosie Pook, WPY Comms Officer
Joining this year's honorary jury for the 50th Wildlife Photographer of the Year competition is Pål Hermansen. A pioneering wildlife photographer from Norway, Pål takes us through an award-winning career spanning 40 years, and explains how looking at the world in different ways shapes his work.
I trace my feelings about nature to a childhood spent out of doors. I remember the thrill of watching deer graze beneath the tree I was hiding in, and the trauma of finding live fledglings impaled on sticks by a gang of boys. In 1973, aged 18, I won first prize in the junior class in a worldwide photo competition organised by the United Nations Environment Programme (UNEP). The prize was a week-long safari and a visit to the UNEP headquarters in Kenya, and that was the start of my career.
My approach has always been to look at what the crowd is doing and take a different path. In the 1980s, for example, nature photography was characterised by quite ordinary images with little personal expression. So I tried to find new angles and develop a more emotional approach. In the 1990s, I concentrated for a while on landscape photography. Again, I looked at what was out there: mass-produced postcards of bland landscape images of mediocre quality prevailed on the market. So, armed with a 6x17cm panoramic camera, I began my pursuit of introducing light into landscape photography in earnest.
Winning my first Wildlife Photographer of the Year category title in 1993 gave my career a huge boost and, since then, my work has appeared in publications and exhibitions around the world. Nearer home, I run photography trips and workshops.
Light has always been one of my most important tools when photographing, as it offers such amazing insights and perspectives into the lives of animals.
Take one of my favourite images of kittiwakes coming in to land on a rock in the middle of the sea. A long exposure reveals the streaks of their flights, etched against the dark water. Used like this, light magically shows how the shape, size and character of the rock itself affects the birds' behaviour, influences their lives, dictates their rhythms. I use light to detect the deeper stories and secrets of animals' existence, like revealing invisible ink.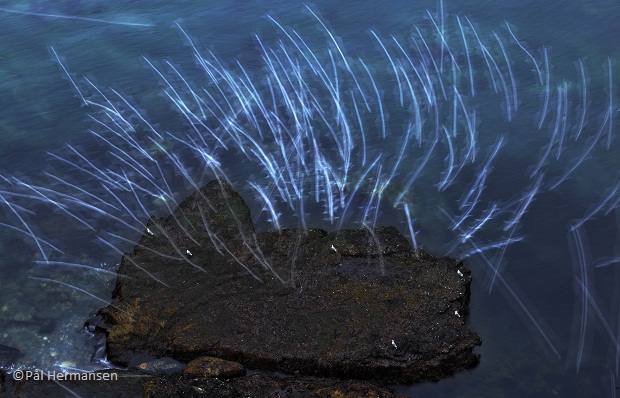 Pål's image of kittiwakes, taken in Finnmark, Norway
Learning how to see from a different point of view is something I've always done. Instead of searching only for 'wild' places, for example, I've spent a lot of time looking at urban environments. I find that if you invest time in watching a local urban area, you will get to know the animals there, see how the squirrels, foxes, insects and birds behave, when and where they feed, where they rest.
With a bit of effort, you should be able to get close to them, and then you can find stories about nature in the most unlikely places. Like my image of a song thrush nesting among the moss and branches growing through a rusty old car; it's riddled with detail, and tells the deeper story of life thriving in an automobile graveyard.
Back in the early days of nature photography, the norm was for images that didn't show any traces of human activity. And there is still that legacy: we still look for unspoilt places, for natural beauty and perfection. But humans and urban environments are part of the world, not separate from it. The boundaries between 'urban' and 'wild' are increasingly blurred.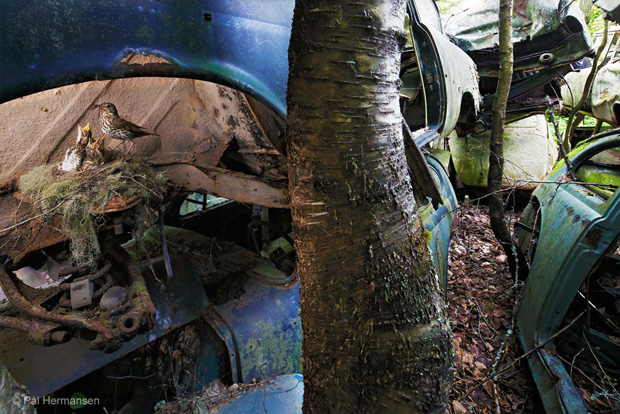 You can find stories about nature in the most unlikely places, says Pål
If you aim for nothing other than a totally 'natural' image, you are likely to struggle. And the 'wild' on television and in many photographs is, for most city dwellers, something that is far from their reality. It is not part of their experience. I want to invite them to understand, identify and become involved by showing the wildlife and nature that does exist close by.
This is why my images increasingly feature the human parts of nature's stories. I have, for example, been working with eider ducks (whose down has been harvested since the Vikings), showing both the traditional human skills and the the intertwined livelihoods of people and wild birds. I think there is plenty of scope for nature photography that embraces the human as part of nature, the urban as part of the environment, the story of how we might indeed manage to live together, and do so well.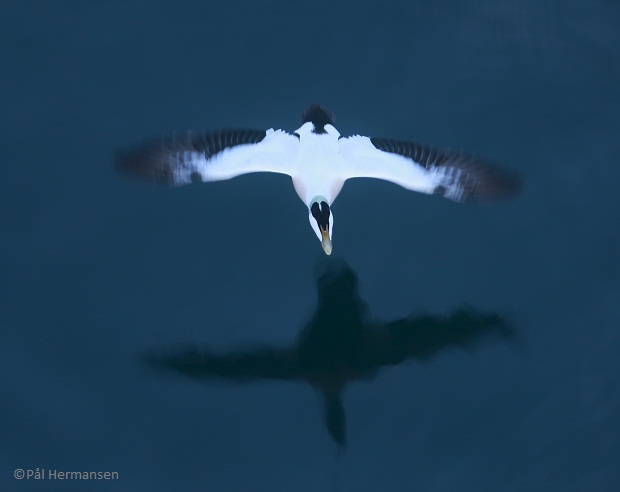 Pål's work with eider ducks shows the intertwined livelihoods of people and wild birds
Recently, I've adopted another new perspective. I've been thinking about how children understand the world, and how this could be applied to my photography. Thinking back to my own childhood and about how children today don't have as much opportunity to be outdoors, I realise that I, like many others of my generation, was privileged. Today it cannot be taken for granted that one grows up with the opportunity to experience nature every day. I decided to try to show, through photography, the strength of the urge children have to spend time with nature.
I found a kindergarten in Norway that uses the outdoors as a classroom and simply followed the children around for many hours. As the children interacted (curious, energetic, playful animals that they are) with their environment, I just watched. I was amazed at the way they engage with nature. They don't just look - they stroke flower petals, kick stones, taste bark, roll in snow, whack sticks, strip leaves, climb trees, smell mud, rest in the snow, taste the formic acid left by ants on their fingers... they experience the world very directly, very physically. They immerse themselves in it.
As I gradually learned to 'see like a child', I began to see nature in a completely different way. I urge all photographers to try out this method; it will open up the world around you, and you'll be rewarded with fresh and unique images.
See like a child, and you'll be rewarded with fresh images, says Pål
Pål's tips
Try to let go of your assumptions and experience things as others do, as this allows nature to open up to you so you can see it in a fresh new way. See 'like a child'!
Urban environments offer many possibilities to nature photographers, you can find stories of nature in the most unlikely places.
Good images are the ones that have longevity and tell a deeper story. Try to ensure your images offer the viewer on-going emotional reward.
Look at what everyone else is doing - and then try something different!
ABOUT PÅL
Pål Hermansen has worked as a freelance photographer and writer since 1971, has written and illustrated 25 books, and has had more than 25 solo exhibitions.
He is board member and member of honour of Norske Naturfotografer (NN; Norwegian Nature Photographers' Association) and is a member of Forbundet Frie Fotografer (FFF; the Norwegian Fine Art Photographers' Association).
Pål's work is included in the book The Masters of Nature Photography: Wildlife Photographer of the Year, published by the Museum.