The 50th Wildlife Photographer of the Year competition opens
06 December 2013 posted by: Rosie Pook, WPY Comms Officer
We have announced the 50th Wildlife Photographer of the Year competition official call for entries and to mark the occasion we also unveiled the grand new website you are visiting today. Take a look at the lightbox for the full-screen experience of each award winning image from this year's collection. You can view your favourite images in the gallery and find out about the people and stories behind them and much more. We want your comments and votes on this year's winners and we want you to be part of our WPY community.
Our beautiful new website celebrating Wildlife Photographer of the Year.
Most importantly, though, we want your most outstanding wildlife photographs enterered in the 50th competition. WPY chair of the jury, Jim Brandenburg, introduces this special competition year:
'For almost 50 years, Wildlife Photographer of the Year has pushed boundaries. In the 60s we raised wildlife and nature photography from a simple scientific record into an art form... Now, as we launch our 50th competition, we are setting the stage for the future. We've been listening to our community, reflecting on what we do well and perhaps what we could do better to herald our new dawn.'
Gemma Ward, WPY competition manager, highlights some of the changes to the competition this year:
'The new adult categories have been simplified and their subject matter is now broader and all-encompassing rather than specific to behaviour or portraits, for example. We've made sure that all species are covered and the introduction of a category for Invertebrates should please the insect and arachnid lovers amongst you. We're really hoping this approach will encourage the full range of photographic styles and disciplines. And to increase the creative quota even further, we've introduced a new special award for moving images, TIMElapse. I really can't wait to see what entries we get this year - it's exciting.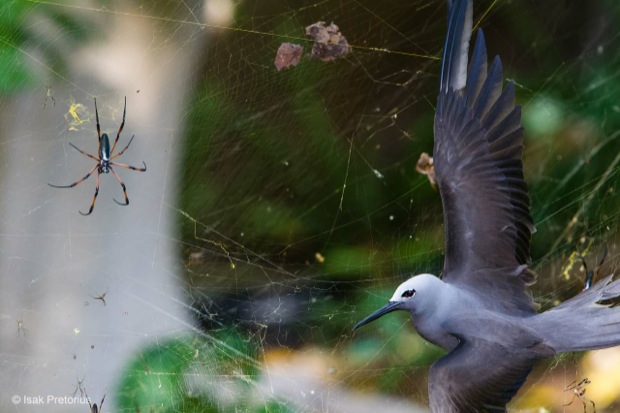 Sticky situation by Isak Pretorius. Behaviour: Birds winner. There's an amazing story behind Isak's masterful shot of a seafaring lesser noddie trapped in the web of red-legged golden orb-web spiders, taken on a tiny island in the Seychelles.
'Creativity is the key as always. Looking at a familiar subject or a scene, that's known to you, and capturing it in a original way. From this year's competition, images like Isak Pretorius' Sticky situation and Agorastos Papatsanis' Magic mushrooms really stood out to me in the judging sessions for their almost choreographed composition and aesthetic vision.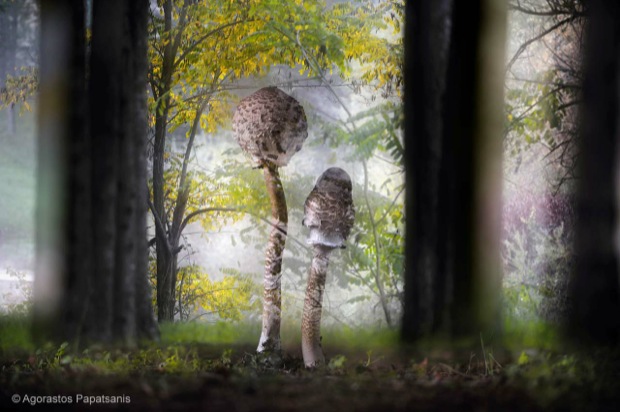 Magic mushrooms by Agorastos Papatsanis. Creative Visions, commended. Agorastos captures two parasol muchrooms in a woodland of Greece's Grevena region, against the tree trunks behind, to fairytale effect. The slight optical illusion is the result of a double exposure, in-camera.
'We're also looking for a wider range of subject matter from our younger entrants of 17 or under. To encourage new creative styles and ways of reporting on the world, we've introduced a new category called WILD-I, specifically for images taken on a mobile device, which together tell a news story. So, documentary photojournalism is an important part of the competition for both adult and younger photographers now.'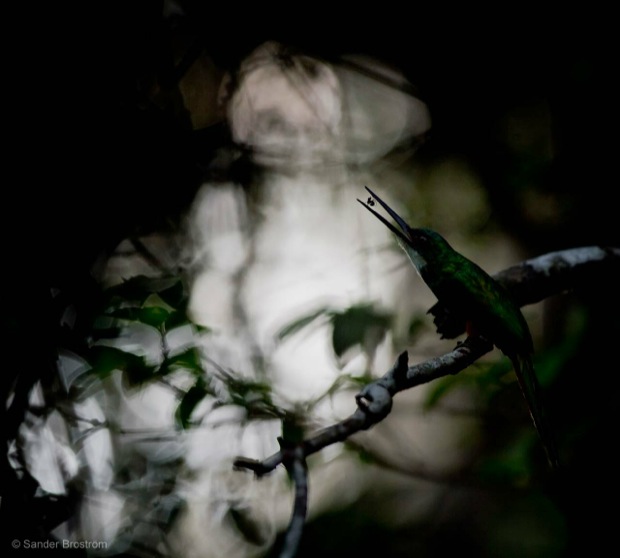 The juggling jacamar by Sander Broström. 15-17Years, specially commended. Top of Sander's Trinidad and Tobago holiday wish-list was to photograph a rufous-tailed jacamar. He found a pair nesting not far from his hotel and caught this luminous shot in a split second.
'Going back to previous years, I loved these two images (below) for their originality. It's always refreshing to see the more commonly photographed wild places and species taken from a different viewpoint. And I look forward to seeing more of nature's diversity represented over the coming weeks of the 50th competition entry period.'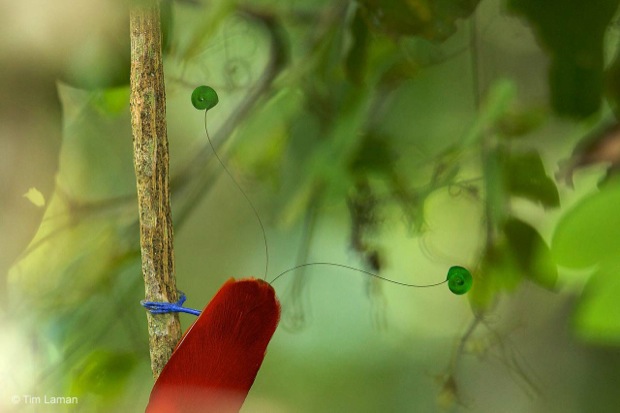 Paradise performance by Tim Laman. Creative Visions, specially commended, 2010. Tim shows the brilliant colours of the king bird of paradise observing the Arfak Mountain forest from a unique perspective.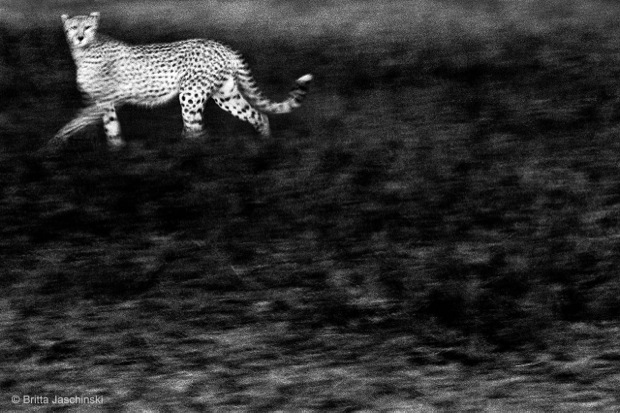 Out of the ashes by Britta Jaschinski. Nature in Black and White, highly commended, 2010. Britta's ghostly shot used a long exposure to catch the mood of the moment when a cheetah melted into the background of this blackened scene in Ndutu, Tanzania, after a huge bushfire.
So photographers everywhere, amateur and established, you now have until 27 February 2014 to submit your images into WPY 2014's 18 award categories.
Entrants compete for one of two coveted grand titles, plus a share of a prize pot worth £50,000, and the chance to be showcased in the annual exhibition that debuts at the Natural History Museum in London before touring six continents. The entries will be reviewed by an internationally renowned jury, shortly to be announced.