Reigning champion Greg du Toit shares his wisdom with young winner Udayan Rao Pawar
06 December 2013 posted by: Rosie Pook, WPY Comms Officer
To celebrate the launch of our new Wildlife Photographer of the Year blog, we catch up with 2013 overall young winner Udayan Rao Pawar as he grills our 2013 adult champion Greg du Toit on what it takes to become a successful wildlife photographer.
Udayan Rao Pawar: For an aspiring photographer like me, is it better to go it alone and learn by trial and error, or to acquire technical skills through tutorials and training workshops, and working with experts?
Greg du Toit: I can only speak from my own experience, and I have had no formal photography training. I learnt to photograph in complete isolation, on my own in the bush without internet or cell phones. I used to come back to the city every six weeks and develop 50 rolls of film. Often, all 50 would be ruined because of something I did wrong, so I had to learn the hard way. It was frustrating and it was expensive.
Looking back, though, I would not have it any other way. I was able to develop my own unique style, and this has made all the difference to my work. It also made me very disciplined about my in-camera settings. I never had access to software to help me fix sloppy work in the field, and to this day, I am still one of the most disciplined photographers I know when it comes to setting my camera correctly in the field.
So I would say by all means get some formal training if you want, but resist the pressure to conform. As the late American photographer and environmentalist, Ansel Adams said:
'There are no rules for good photographs, there are only good photographs'.
Left: Udayan Rao Pawar, Young Wildlife Photographer of the Year 2013
Right: Greg du Toit, Wildlife Photographer of the Year 2013
Udayan: It was of great satisfaction to me that the WPY award brought much needed attention to the plight of gharial crocodiles and the severe threat the species is facing from illegal sand-mining and fishing. But beyond this, how can I be more proactively involved in its conservation?
Greg: Udayan, a good wildlife photographer like yourself has the ability to produce images that could potentially be seen by millions of people. If you want to make a difference, my advice is to photograph not for yourself - but for those who will see and learn from your work.
Many photographers just please themselves, but this is not my outlook at all. My goal is to help those animals, and my tool is my photography. Never underestimate the conservation power and value of a striking wildlife photograph - if it can reach people's hearts, it can be a wonderful conservation tool.
By continuing to share stunning photographs of gharials, you will be increasing awareness of them, and thus helping them - as long as you remember who you are photographing for.
'Udayan's winning image of gharial crocodiles is a wonderful conservation tool,' says Greg
Udayan: Do you think it is possible to have a career as a wildlife photographer?
Greg: Yes, but you will probably need income from another source to support your photography. Since the world went digital, (the only world you have known my young friend), millions more images are being produced and sold. The supply is greater than the demand, and the business has collapsed.
The power of a really good photograph has not diminished, so you need to find a way to fund your photography. There are many different ways to do this. Bence Máté, (2010 title-winner), for example, builds hides and then rents them out - very clever! Others teach and run workshops, or have day jobs.
When I started out, I kept my living costs very low. I might not have a big bank account, but I consider myself to be wealthy, because I have seen and experienced amazing wonders in nature that money simply cannot buy.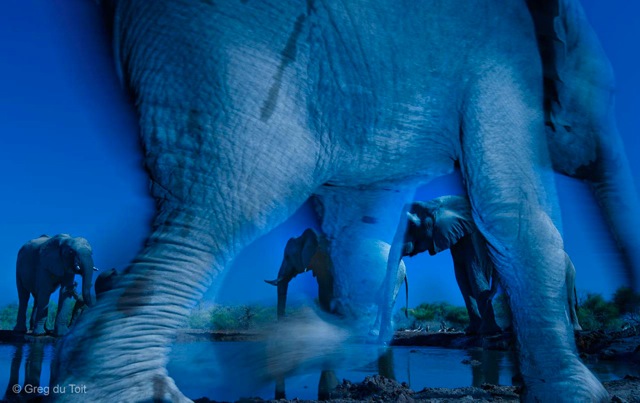 Greg's winning image, taken in Botswana's Northern Tuli Game Reserve
Udayan: Do you ever feel the urge to film entire sequences?
Greg: For me, the beauty of a stills photograph lies in its ability to record, freeze and arrest a single moment in time. This is the true gift that a DSLR camera gives us.
Your camera has the ability to record a single moment in time, often so brief that not even your eye saw it and so fleeting that your mind was unable to capture it. These spectacular moments, plucked and suspended in time, are what makes a stills photograph so special. I have always been utterly captivated by the power of a stills photograph and its ability to capture a most singular and spectacular moment.
For me, video is a series of lesser moments stitched together to create a memorable story. There is no doubt that this is a powerful medium, but it is totally different to a photograph. That said, there are definitely times when video is able to capture a scene better, like when the light is flat or when there are spectacular sounds involved.
My advice, to a young intelligent and flexible brain like yours, would be to develop both skill sets so you can take advantage of your DSLR's video capabilities when the time presents itself.
Udayan: Finally, do you have any other advice for me?
Greg: Keep your work unconventional, remember your audience and never, ever compromise when it comes to recording your wild subjects in the most striking and beautiful way you possibly can - for their sake, as well as yours.