John Benjamin Stone, known as Benjamin, was born in Birmingham on 9 February 1838. He was the son of a local glass manufacturer and took over the business after his father's death. He was a staunch conservative and soon entered local politics, eventually serving as MP for Birmingham East from 1895 to 1909. He was knighted in 1892.
Stone was also keenly interested in anthropology and science. He was a member of many learned societies. He wanted to make a record of his life and times and so collected photographs and postcards. Then he decided to learn to take photographs for himself, employing two men full-time to develop and print his plates. Stone was one of the first photographers to switch from wet to dry plates.
This meant the plates no longer needed to be developed on the spot, as soon as they had been exposed. It made photography much easier, and the equipment lighter to carry around. Stone went on to make 26,000 photographs documenting daily life, local customs and his travels throughout the British Isles, Spain, Norway, Japan and Brazil.
Stone's interest in science means it's no surprise that he visited the Natural History Museum and photographed both the galleries and the staff.
The museum wardens - all men - are pictured outside the museum wearing smart military-style uniforms complete with peaked caps. In the nineteenth century similar uniforms were common in many large museums. Nowadays visitors to the NHM recognise the front of house staff by their purple shirts emblazoned with the museum's logo.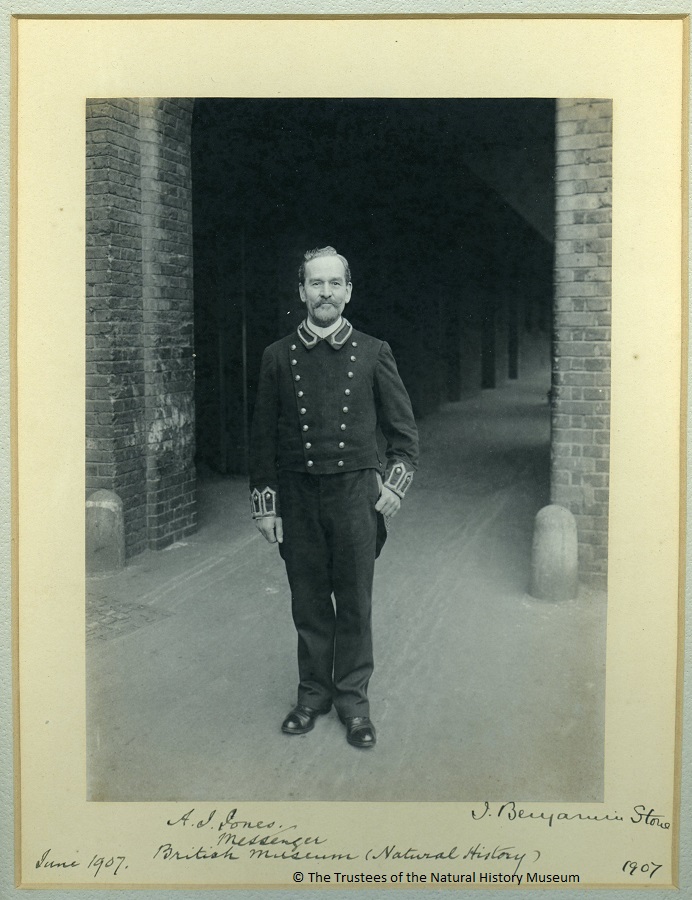 Stone's photos show the curators and scientists dressed in frock coats and top hats as if for a smart dinner party. Today these staff are indistinguishable from the visitors except for the all-important security pass, and perhaps a white coat for laboratory work.
Meanwhile, some of the galleries are completely different, but some have hardly changed.
This is the Hintze Hall in 1907 - the statue of Darwin is in the same place now, but the elephant display has been replaced by Dippy the Diplodocus.
Here's Dippy as he appeared in the reptile gallery in 1907.
Stone reached the peak of his photographic career when he acted as official photographer for the coronation of King George V in 1911. Stone died a few years later, on 2 July 1914.
The majority of Stone's photographs are housed at the Library of Birmingham, and you can browse many of them online. His photographs are also in the collections of the V&A, the National Portrait Gallery, and the British Library.