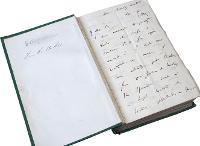 Letter from Charles Darwin to William Tegetmeier, 1859, bound into the book.
In 1859, Darwin wrote to William Tegetmeier his adviser on fancy pigeon breeding, telling him to expect a copy of On the Origin of Species in the post as soon as it was published.

Tegetmeier's first edition copy (1859) is on display to the left, periodically changed with another first edition to limit light exposure. The pigeons they shared a passion for helped to inspire a global change in thought.