Udanoceratops
Udanoceratops
Pronunciation:

oo-dahn-oh-serra-tops

Name meaning:

'Udan [Sayr] horned face'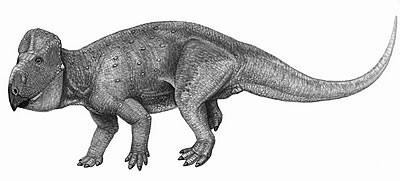 © Andrey Atuchin
Diet:

herbivorous

When it lived:

Late Cretaceous, 81-75 million years ago

Found in:
Udanoceratops is known from a partial skull and postcranial skeleton. This 'ceratops' had hardly any head frill.
Taxonomic details
Taxonomy:

Dinosauria, Ornithischia, Neornithischia, Cerapoda, Marginocephalia, Ceratopsia, Neoceratopsia

Named by:

Kurzanov (1992)

Type species:

tschizhovi
Discover the colossal Patagotitan mayorum at Titanosaur: Life as the Biggest Dinosaur, open now.