Nomingia
Nomingia
Pronunciation:

noh-ming-ee-uh

Name meaning:

'Nomingiin'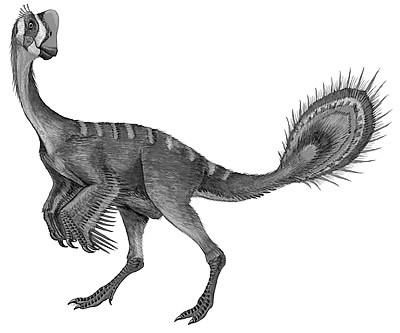 © Anness Publishing / NHMPL
Type of dinosaur:

Length:

1.6m
Diet:

omnivorous

When it lived:

Late Cretaceous, 72-68 million years ago

Found in:
Nomingia is known from a partial postcranium. The skull has not been found, so this is reconstructed from similar dinosaurs.
Taxonomic details
Taxonomy:

Dinosauria, Saurischia, Theropoda, Neotheropoda, Tetanurae, Avetheropoda, Coelurosauria, Tyrannoraptora, Maniraptoriformes, Maniraptora, Oviraptorosauria, Caenagnathoidea, Caenagnathidae

Named by:

Barsbold, Osmólska, Watabe, Currie and Tsogtbaatar (2000)

Type species:

gobiensis
Find out the many ways you can join Dippy the Museum's famous Diplodocus cast on his natural history adventure.