Maxakalisaurus
Maxakalisaurus
Pronunciation:

max-aka-li-sore-us

Name meaning:

'Maxakali (tribe of Brazil) lizard'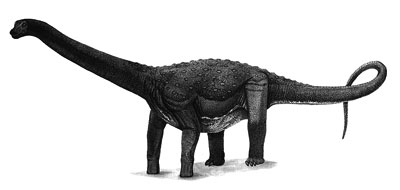 Type of dinosaur:

Length:

13.0m
Diet:

herbivorous

When it lived:

Late Cretaceous, 80 million years ago

Found in:
Maxakalisaurus is known from a partial skeleton, including some skull fragments and osteoderms (large skin adornments). Its teeth were ridged, unusual for sauropods. Some of the bones bear teeth marks, suggesting scavenging activity.
Taxonomic details
Taxonomy:

Dinosauria, Saurischia, Sauropodomorpha, Sauropoda, Eusauropoda, Neosauropoda, Macronaria, Camarasauromorpha, Titanosauriformes, Titanosauria, Lithostrotia, Saltasauridae, Saltasaurinae

Named by:

Kellner et al. (2006)

Type species:

topai
Find out the many ways you can join Dippy the Museum's famous Diplodocus cast on his natural history adventure.