Dromiceiomimus
Dromiceiomimus
Pronunciation:

dro-MI-see-oh-me-muss

Name meaning:

'emu mimic'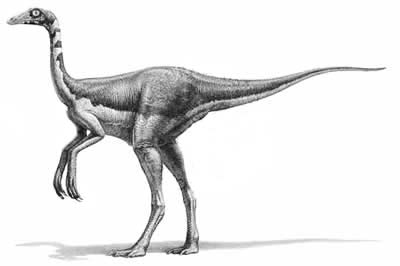 Type of dinosaur:

Length:

3.5m

Weight:

100kg
Diet:

omnivorous

Teeth:

horny beak

Food:

plants, possibly insects and animals too

How it moved:

on 2 legs

When it lived:

Late Cretaceous, 74-70 million years ago

Found in:
Dromiceiomimus looked very like a modern ostrich, but without the thick layer of feathers (it may have had some feathers).
Dromiceiomimus is now a nomen dubium (dubious name), because the fossils are no longer thought to represent a distinct dinosaur type.
Taxonomic details
Taxonomy:

Dinosauria, Saurischia, Theropoda, Neotheropoda, Tetanurae, Avetheropoda, Coelurosauria, Tyrannoraptora, Maniraptoriformes, Ornithomimosauria, Ornithomimidae

Named by:

Parks (1926)

Type species:

brevitertius
The nation's favourite dinosaur is back for a short visit and sharing memories of nature from across the UK.
Free installation. Now open.