The era of whaling
The Museum's whale died on the eve of the world's commercial whaling boom.
Small communities have long relied on these sea creatures for food and livelihood. People risked their lives to hunt some of the largest mammals on Earth in tiny fishing boats.
In the early twentieth century, a worldwide commercial whaling industry rapidly sprang up thanks to technological advancements.
Blue whales were targeted for the rich rewards their huge bodies held.
The whaling ships used in the twentieth century were fast enough to catch even the quickest whales, and had mechanical weapons on board - including exploding harpoons. The water ran red with blood, as large ships surrounded and slaughtered entire pods.
Whaling was such a profitable business that more than 340,000 blue whales were killed in the first half of the twentieth century.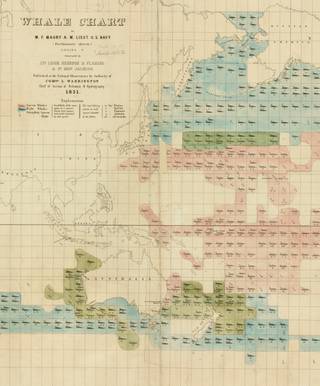 Commercial whaling of all species is now banned by the International Whaling Commission (IWC), although hunting for scientific research is permitted.
Some countries, including Norway and Iceland, continue to hunt whales commercially under objection to the moratorium.
Since the Museum's whale died, hunting has wreaked havoc on the global population of its species.
Image credits:
Moraine Fjord by Frank Hurley © National Library of Australia / The whaling ship Splendid, photographed between 1870 and 1890 by unknown author / A whale being harpooned © Minto via Wikimedia Commons / Whaling map by Matthew Maury, 1851, U.S. Navy, National Observatory