Wildlife Garden Explorers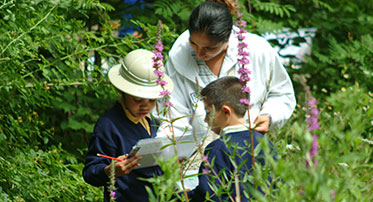 Workshop
Wildlife Garden
Suitable for: Foundation Stage, Key Stage 1

Pre-visit information and curriculum links PDF (29KB)

Your class will take on the role of explorers as they investigate the Wildlife Garden.

Pupils will be provided with hats and binoculars and take part in a variety of fun learning activities in our urban garden.

You will divide your class into groups and assign each one an adult leader who will work with the pupils and encourage observation and discussion.

Teachers and accompanying adults will be provided with activity instruction booklets.

Learning themes: using the senses, plants and animals in their local environment, habitats and homes, variation among plants and animals, green plants and leaves.

Cost: £3 per student

Booking: Reserve your place by calling the schools booking team on +44(0)20 7942 5555

Please read our payment and cancellation conditions before booking.

Capacity: 30 pupils

Duration: 45 minutes

Meeting point: Darwin Centre atrium

Please note that this activity only runs during the spring and summer terms (April to October).
Booking Required
Please call our booking line on +44(0)20 7942 5555
| | |
| --- | --- |
| 24 April 2017 | 10:30 - 11:15, 11:30 - 12:15, 12:30 - 13:15, 13:30 - 14:15 |
| 27 April 2017 | 10:30 - 11:15, 11:30 - 12:15, 12:30 - 13:15, 13:30 - 14:15 |
| 28 April 2017 | 10:30 - 11:15, 11:30 - 12:15, 12:30 - 13:15, 13:30 - 14:15 |
| 1 May 2017 | 10:30 - 11:15, 11:30 - 12:15, 12:30 - 13:15, 13:30 - 14:15 |
| 4 May 2017 | 10:30 - 11:15, 11:30 - 12:15, 12:30 - 13:15, 13:30 - 14:15 |
| | More dates . . . |
Natural History Museum
Cromwell Road
London SW7 5BD