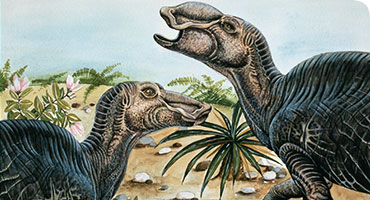 Workshop
Schools Reception
Suitable for: Key Stage 2

Pre-visit information and curriculum links PDF (32KB)

Perform your own fossil dig and draw conclusions about how dinosaurs looked in this hands-on workshop.

From slow, plant-eating giants to fierce scavengers and hunters, dinosaurs dominated the land for over 160 million years. They died out around 65 million years ago, so how do scientists work out how they looked and behaved?

In this workshop pupils work in groups to perform their own fossil dig, uncovering mystery specimens from excavation boxes. Next, they observe and draw bone structures to interpret the species their fossil came from.

Learning themes: using observations to draw conclusions, finding out how scientists use evidence, fossils, dinosaurs, carnivores and herbivores.

Cost: £3 per student

Booking: Call our school bookings team on +44(0)20 7942 5555

Please read our payment and cancellation conditions before booking.

Capacity: 30 students

Duration: 45 minutes

Location: Please meet a science educator at the School Reception on the lower ground floor of the Green Zone five minutes before the start time.
Booking Required
Please call our booking line on +44(0)20 7942 5555
| | |
| --- | --- |
| 23 January 2017 | 10:30 - 11:15, 11:30 - 12:15, 12:30 - 13:15, 13:30 - 14:15 |
| 24 January 2017 | 10:30 - 11:15, 11:30 - 12:15, 12:30 - 13:15, 13:30 - 14:15 |
| 25 January 2017 | 10:30 - 11:15, 11:30 - 12:15, 12:30 - 13:15, 13:30 - 14:15 |
| 26 January 2017 | 10:30 - 11:15, 11:30 - 12:15, 12:30 - 13:15, 13:30 - 14:15 |
| 27 January 2017 | 10:30 - 11:15, 11:30 - 12:15, 12:30 - 13:15, 13:30 - 14:15 |
| | More dates . . . |
Natural History Museum
Cromwell Road
London SW7 5BD