David Attenborough's Great Barrier Reef Dive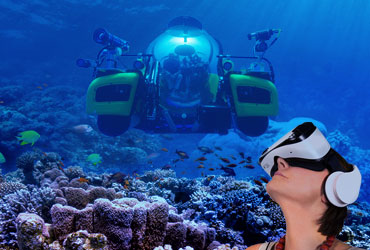 Special event
Attenborough Studio
Set sail on a journey deep beneath the waves, exploring planet Earth's largest coral reef.
This Atlantic Productions virtual reality experience combines the Museum's world-leading research with amazing 3D technology, vividly presenting the reef's colourful corals and darting shoals of tropical fish.
With Sir David Attenborough as your guide, you'll learn about the challenges faced by this extraordinary aquatic community, and find out how scientists are researching ways to conserve one of nature's most important ecosystems.
Adults £6.50, Members £4.50
Health and safety notice
The virtual reality equipment should not be used by children under the age of 13. If you are pregnant, elderly, have pre-existing binocular vision abnormalities or psychiatric disorders, or suffer from a heart condition or other serious medical condition, please consult a doctor before booking.
Do not use the equipment if you are under the influence of any drugs or alcohol. Immediately discontinue use if you experience any discomfort.
Due to the immersive nature of the experience it is not possible for children who are not participating to accompany adults into the studio. If visiting with children, please ensure you have made arrangements for their supervision.
Visitor enquiries
If you have a question about this event, please call +44 (0)20 7942 5000.
Booking Required
Book tickets online
| | |
| --- | --- |
| 6 December 2016 | 14:35 - 14:55, 15:50 - 16:10 |
| 7 December 2016 | 14:35 - 14:55, 15:50 - 16:10 |
| 8 December 2016 | 14:35 - 14:55, 15:50 - 16:10 |
| 9 December 2016 | 15:20 - 15:40 |
| 10 December 2016 | 10:50 - 11:10, 13:10 - 13:30, 15:20 - 15:40 |
| | More dates . . . |
Natural History Museum
Cromwell Road
London SW7 5BD