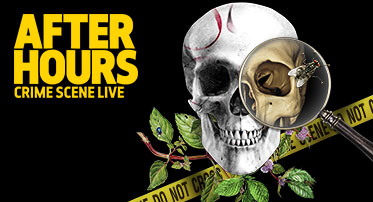 Special event
Flett Lecture Theatre
Do you have what it takes to catch a killer?
Become a crime scene investigator for the night and work with our Museum forensic experts to solve a murder mystery.
20 January 2017, 18.30 (sold out)
17 February 2017, 18.30 (sold out)
17 March 2017, 18.30
7 April 2017, 18.30
5 May 2017, 18.30
23 June 2017, 18.30
Tickets £60, Members £54
Your ticket tncludes a free drink on arrival.
---
About Crime Scene Live
You'll arrive at the Museum's Exhibition Road entrance at 18.30 to collect your crime scene suit and enjoy your complimentary drink before the investigation briefing. Assigned to a team, you'll make your way around the Museum, examining the evidence and learning the science behind crime scene investigation with our experts. It's your job to gather and analyse the clues to establish when, where and how the victim died. 
How close will you get to solving the mystery? Do you have what it takes to catch a killer?
Discounted Member tickets
Members can purchase discounted tickets to this event. Please note this discount is not available to non-Members who may be accompanying you. Please present your Membership card on arrival at the event.
Become a Member today and start enjoying exclusive benefits including free admission to exhibitions, priority museum entry and discounted tickets to events like this one. It's easy to join online.
---
Important information
This event is for those aged 18 and over. Bookings are required.
Please be aware that this event involves scenes of a gruesome nature.
Please wear cool clothes and comfortable shoes, as you will be walking around the Museum and the crime scene suit you will be wearing for the evening can get quite warm.
We cannot allow entry into the event after 19.45. Please be aware that you may miss some of the activities if you arrive late.
Disabled helper tickets are available upon request, subject to availability.
No refunds will be given. You may change your booking to an alternative Crime Scene Live date as long as you inform us at least 30 days before the date of your original booking. Alternative dates are subject to availability and must take place within one year of your original booking. A £5 administration will be charged for each changed ticket.
The Museum reserves the right to make any necessary changes to the event as required, such as adjusting the locations, timings or content of the activities. This is to ensure that we deliver a safe and excellent experience for all guests at all times.
Got a question? Call us on +44 (0)20 7942 5000, Monday to Friday, 9.30 - 17.30 or email us at any time.
Booking Required
Book tickets online
Natural History Museum
Cromwell Road
London SW7 5BD