2005: Behaviour: All Other Animals - Runner-up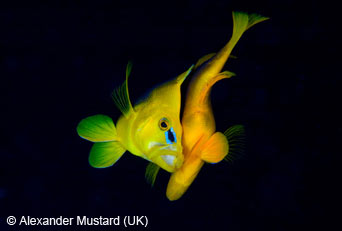 Alexander Mustard
Enlarge image
Shy hamlet romance
Alexander Mustard (United Kingdom)
Shy hamlet romance
Nikon D100 with Sigma 28-70mm lens; 1/180 sec at f16; 200 ISO; Subal underwater housing; Subtronic underwater flash.
View other winners in this category



Adult awards Common toad orgy Ruben Smit

View



Adult awards Winged termite feast Joe Mcdonald

View
Search the online gallery
Enter a keyword to search for images from the 2005 competition
Wildlife Photographer of the Year is co-owned by the Natural History Museum and BBC Worldwide.
All intellectual property rights in the Wildlife Photographer of the Year competition images are retained by the photographer. Any reproduction of the images without prior written consent will constitute an actionable infringement. For information regarding permission to use competition images please email us.