Duxbury collection database
Ovoidinium DAVEY 1970 emend. DUXBURY 1983
Emended diagnosis:
"Peridiniacean dinoflagellate cysts which are distinctly bi-layered and which are most variable in the degree of body layer separation. The endophragm is smooth to very finely granular and forms an ovoidal to spheroidal endocyst which may be dorso-ventrally flattened. The periphragm may be smooth or may be variously ornamented and the pericyst may be closely appressed to the endocyst with separations being confined to a small apical and a small left antapical horn. However, separation of the body layers into apical and antapical pericoels is usually observed and the degree of cavation is most variable. In the extreme, cysts adopt a deflandreoid shape with the apical and antapical pericoels forming a well-developed apical and two well-developed antapical horns, respectively. Often, only the left antapical is formed. Some indication of the paracingulum and parasulcus is usually observed, indicated by folding or by surface ornament alignment. The archeopyle is of the [tAtI] type and the operculum may remain attached or may be lost." - From Duxbury (1983, p. 61, 63).
Note:
According to Helenes (1983, p. 258), this genus is a taxonomic junior synonym of Ascodinium Cookson & Eisenack 1960a emend. Helenes 1983. However, Lentin & Williams (1989, p. 262) retained Ovoidinium.
(See Williams et al., 1998).
---
Ovoidinium incomptum DUXBURY 1983
Holotype
Pl. 10, fig(s). 5, 9
NHM registration number: FD61(2)
Transmitted light images: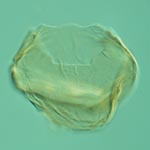 Dorsal face in high focus
CLSM stills:
| | |
| --- | --- |
| Maximum Projection | Shadow Projection |
---
Original diagnosis:
"A small, thin-walled peridiniacean cyst species which is ovoidal and dorso-ventrally flattened. A low, distally rounded and closed apical projection is present and a small apical horn, composed entirely of periphragm may be superimposed on this. A similar, small left antapical horn is invariably present and this small scale posterior cornucavation may be extended so that slight separation of the whole posterior portion of the cyst into two layers may occur. A [tAtI] archeopyle is observed and the operculum only rarely remains attached. The paracingulum is usually indicated by surface folding, as are some parasutures." - From Duxbury (1983, p. 64).
Note:
This species has later been transferred to the genus Ascodinium Cookson & Eisenack, 1960a emend. Helenes 1983 by Lentin & Williams (1985, p. 28), but Lentin & Williams (1989, p. 269) retained the species in Ovoidinium Davey 1976.
(See Williams et al., 1998).