Project funded by GBIF
Background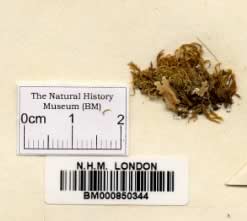 The collections at the Natural History Museum include about 780,000 specimens of mosses. A large number of these specimens (about 20,000) are types, that is, the specimens that were referred to in the original species description, and on which the concept of the species is based. In order to examine these type specimens it has always been necessary to visit the Museum, or borrow the specimens, a procedure that is expensive and increases risk of damage. To make an informed decision on species delimitation and identity, it is still essential for specialists to examine specimens. However, images of putative types provide data that can reduce unnecessary borrowing of specimens, so reducing risk of loss or damage, and increasing rapid availability of information.
Funding
This project is funded by the Global Biodiversity Inventory Facility (GBIF), an organisation that aims to make the world's primary data on biodiversity freely and universally available via the Internet. The GBIF vision is that this biodiversity data will contribute to economic growth, ecological sustainability, social outcomes and scientific research by increasing the utility, availability and completeness of primary scientific biodiversity information available on the Internet.
This partnership will make data on moss type specimens at the Natural History Museum available over the Internet, contributing to our understanding of biodiversity.