Bombus
Find world species by species group*
click on a subgeneric name:
Simplified subgeneric classification of the bumblebees reducing the number of subgenera from 38 to 15 (Williams et al., 2008 [pdf]), which are placed in a single genus Bombus. The phylogenetic tree for the subgenera is based on an analysis of DNA sequence data for five genes (Cameron et al., 2007 [pdf]). Only clades with strong support (Bayesian posterior probability >0.95) are shown.
* Click here to see the recent changes to the subgeneric arrangement of species.
Estimate of phylogenetic relationships
Subgenera
Keys to subgenera
Species groups
Estimate of phylogenetic relationships
The phylogenetic tree adopted here is based on an analysis of DNA sequence data from five genes (Cameron et al., 2007 [pdf]). It is strongly supported, and includes almost all known bumblebee species. Species are listed here in an order that represents their phylogenetic relationships (after the sequencing convention of Nelson, 1972) as these are understood from this phylogenetic study.
This estimate of bumblebee phylogeny provides further evidence that the use of Psithyrus as a genus for the principal group of socially parasitic species separate from the remainder of the social bumblebees in Bombus is unjustified. Therefore a single genus Bombus is used for all of the species of bumblebees (see the comments on the subgenus Psithyrus).
An alphabetic index to all names in the checklist (but not all known bumblebee names) and a summary list is provided.
Subgenera
Since 1880, a system of subgenera has come to be widely used by specialists who wish to label groups of species that are thought to be more similar by various criteria (e.g. Dalla Torre, 1880; Radoszkowski, 1884; Robertson, 1903; Vogt, 1911; Skorikov, 1914; Krüger, 1920; Skorikov, 1923; Richards, 1929, 1968). Subgenera are in common use in the bumblebee literature. A historical review of the development of generic and subgeneric classifications of bumblebees is given by Ito (1985). However, the subgeneric system had become unweildy with 38 subgenera, many of them with only one or two species and some of them undiagnosable or polyphyletic. Consequently the subgeneric system had come to be seen widely as unnecessarily complicated. Williams et al. (2008 [pdf]) suggest criteria for simplifying the subgeneric system, and using the most reliable and nearly complete estimate of phylogeny from Cameron et al. (2007 [pdf]), they reduced the system from 38 to a more manageable 15 subgenera (see the tree above),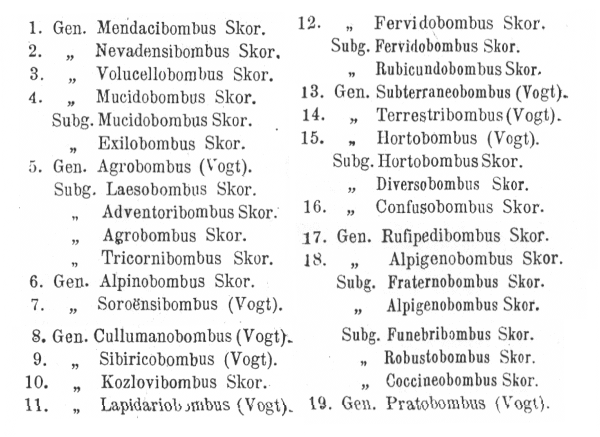 Skorikov's 1923 generic and subgeneric classification of bumblebees, which provided many of the names for the more recent subgeneric classifications of bumblebees.
For most of its history, the bumblebee subgeneric system was developed using characters of the male genitalia. This was because morphological characters, those of the male genitalia show particularly high levels of congruence. For a brief account of adult morphology in general, and of the male genitalia in particular, see Williams (1991 [pdf] ). Images of male genitalia are provided here for most species (others are available but unphotographed) by subgenus. Note that the use of the terms describing their parts has differed among authors.
Male genitalia of B. ruderarius
from the dorsal (above) and
posterior (below) aspects.


Male genitalia of B. ruderarius
from the dorsal (left) and
ventral (right) aspects.
Several authors have commented that the recent system of 38 subgenera (the system summarised in Williams, 1998; Michener, 2000, 2007) was too complicated. In the New World, for example, both the monophyletic fraternus-group of subgenera and the subgenus Fervidobombus are endemic, and these are the only two groups represented south of the Panama isthmus. But whereas Fervidobombus has been treated nearly consistently as a single, relatively large subgenus (20 species in this list), the fraternus-group in a broad sense (also 20 species in this list) had been split into 10 subgenera.
Now that a well supported estimate of phylogeny is available, Williams et al. (2008 [pdf]) suggested that the subgeneric system could be simplified reliably. This has reduced the number of subgenera from 38 to 15 and has reduced the number of subgenera with only a single species from 11 to 1 (see the summary table below, or click here for the full list):
Subgenus




Subgeneric
abbreviation

Number of species

1
2
3
4
5
6
7
8
9
10
11
12
13
14
15


Mendacibombus
Bombias
Kallobombus
Orientalibombus
Subterraneobombus
Megabombus
Thoracobombus
Psithyrus
Pyrobombus
Alpinobombus
Bombus s. str.
Alpigenobombus
Melanobombus
Sibiricobombus
Cullumanobombus


Md
Bi
Kl
Or
St
Mg
Th
Ps
Pr
Al
Bo
Ag
Ml
Sb
Cu
12
3
1
3
11
23
51
26
50
8
17
8
18
8
23

Full synonymy of subgeneric names for the new simplified subgeneric system is included in this checklist. Also included are details of subgeneric type species, because these have been revised since Richards (1968). The given generic combination for subgeneric names is shown. Where a genus-group name was published at the rank of genus and subsequently treated at subgeneric rank, the first such action is listed separately. The two-letter abbreviations for subgeneric names (see the table above) are based on those used by Ito (1985).

Keys to subgenera

Illustrated keys are available here to help in identifying all of the world's bumblebees to subgenus from their morphology. There are keys in the traditional dichotomous format:

Click here for a pdf key to subgenera (females)

Click here for a pdf key to subgenera (males)

A Lucid matrix key is also available, which allows the user to choose characters in any order. This is a test version. At present the illustrations are far from complete, but as a work in progress it may still be useful. Comments and suggestions are welcomed.

Click here for a Lucid key to subgenera (females and males)

Species groups

The more distinctive groups of species within subgenera can be referred to using interpolated species-group names when this is useful. Like subgeneric names, the use of these names is not obligatory. A selection of potentially useful names is provided in grey within the pages on subgenera. These names are derived from the oldest valid name among the species included within the group.

.
top of page