South and Southeast Asia
Our current Darwin Initiative projects build on the approach of our Sri Lankan work and, with project partners, extend our activities into India, Nepal, Thailand, Laos, Vietnam and Malaysia. These projects are survey based and seek to achieve common objectives by:
international cooperation in regional malacology
establishment/enhancement of reference collections
development of databases
publication of illustrated species lists
publication of popular guides
engaging in and publication of joint research
identifying conservation priorities
developing conservation strategies
Thailand
Our project partner in Thailand is Somsak Panha, who leads the Mollusca Research Group in the Department of Biology, Faculty of Science Chulalongkorn University, Bangkok. Somsak heads a dynamic team of researchers that has been active on many aspects of land snail research since 1988. They are the regional centre of expertise and resources for our programme and directly responsible for running the projects in Laos, Vietnam and Malaysia. Thailand has a diverse snail fauna with a particularly rich component associated with the extensive ranges of limestone hills and outcrops, including many micro-snails. Thailand also has the advantage of occupying a key zoogeographical position with a snail fauna ranging from Indo-Himalayan to the north and west to Malaysian in the south and Indo-Chinese to the east.
India
In India we are working with N.A. Aravind at the Ashoka Trust for Research in Ecology and the Environment. A century ago the study of South Asian land snails was at the forefront of investigations into tropical land snail faunas, reaching a peak with publication of the three Mollusca volumes in the Fauna of British India series. Because of Britain's long association with the region and the pioneering work of British malacologists, see: Naggs, F. 1997. William Benson and the early study of land snails in British India and Ceylon. Archives of Natural History 24: 37-88. PDF (47MB), the NHM has the best regional land snail research resources available anywhere. These consist of specimen reference collections, rich in types, and regional literature.

Photos N.A. Aravind.
Indrella ampulla (Benson) is a monotypic Ariophantid genus endemic to wet forests in the Western Ghats, India. The shell is delicate being mostly protinaceous with a relatively low calcium carbonate content; the body exhibits dymantic colour polymorphism..
The rich snail fauna of the range of hills extending down the western margins of peninsular India is a component of the Western Ghats Global Biodiversity Hotspot and is the focus of our project.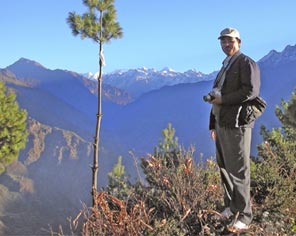 Prem Budha in Langtang National Park, Nepal.
Nepal
Nepal was largely closed to outsiders until the latter half of the twentieth century, was excluded from the malacological investigations that flourished in nineteenth century India and the snail fauna remains poorly known to this day. We are working with Prem Budha, Chairman of the Centre for Biological Conservation, Nepal, and Thierry Backeljau, University of Antwerp, Belgium, in seeking to redress this situation. Nepal is part of the Himalayan Biodiversity Hotspot and this is expected to be reflected in a diverse snail fauna. In addition there are forested limestone hills surrounding the Kathmandu Valley that we expect to have high densities of snails and possess a significant proportion of endemic species.
Sri Lanka
Many forests in Sri Lanka have yet to be surveyed for land snails but surveys carried out to date show a clear picture of the pattern of snail distributions and conservation issues that need to be addressed. Our main focus is the loss and fragmentation of forests, particularly in Sri Lanka's wet zone, and the role of transformed habitats as partial reservoirs of Sri Lanka's biota.
Conserving the remaining forest fragments will not be sufficient to conserve Sri Lanka's remaining species. Whether driven by human activity or natural processes, climate change is an inevitable feature of the earth's past and future. Set in islands of transformed habitats, forest biotas will not be able to shift and accommodate to climate change as they have in the past and establishing forest corridors is a key stategy for conservation. Working with Rohan Pethiyagoda and Kelum Manamendra-Arachchi at the Agrapatana Arboretum we are carrying out a base line study of snails for this cloud forest restoration project. We are also looking at the mosaic of transformed habitats to assess the extent to which they can act as reservoirs of native snail taxa. Of most importance are the traditionally cultivated home gardens, which are in themselves threatened by changing land use.