Transfer and spread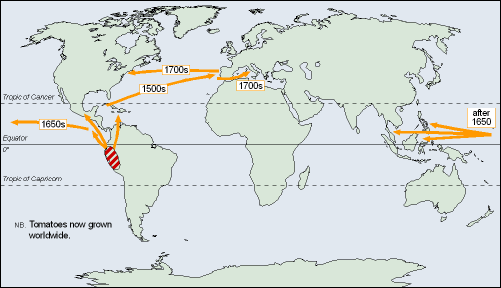 Pre-Columbian transfer of the tomato from South to Central America and the West Indies was likely, as it was found all over the New World by the Spanish when they invaded. Tomatoes were first introduced to Europe by the Spanish, possibly from Mexico, but more likely from Peru. A work written by the Dutch herbalist Dodonaeus in the mid-1500s gives the common name 'pomi del Peru' to the tomato, indicating that its origin was thought at that time to be Peru. A later common name that accompanied the plant to the Old World was 'tomate', derived from the Nahuatl (Mexican) word 'tomatl'. When the tomato was first brought to Europe it was viewed with some suspicion, as it had many similarities to the European deadly nightshade, a poisonous plant that is also a member of the Solanaceae (Atropa belladonna L.).
The tomato's fame as an aphrodisiac, and perhaps its common name the love apple, may have come from its common name, pomo d'amori, a possible corruption of the early Italian common name 'pomi di Mori', apple of the Moors, or 'pomi d'oro', golden apple. The early varieties brought to Europe were said to be yellow, hence the common name.
Some scholars say that the tomato was at first taken to be a kind of eggplant (Solanum melongena L.) to which it is also somewhat distantly related. Early European consumers boiled the foliage of tomato and potato plants - with potentially tragic results because the foliage has a high concentration of poisonous alkaloids.
The Italians and Spaniards were the first Europeans to adopt the fruit as a food, in the early 16th century. Apart from in Italy, the tomato does not seem to have been eaten in Europe before 1700. In France and northern Europe, the plant was first grown as an ornamental and it was suspect because of its fatal foliage.
Taken across the Pacific to the Philippines, the plant was found in eastern Malaysia after 1650 and tomatoes were introduced to North America from Europe. They did not acquire early acceptability but Thomas Jefferson is known to have raised them at Monticello in 1781. Tomatoes were used in Louisiana as a food as early as 1812, but not in the north-eastern states until about 1835, and it did not attain widespread popularity in the USA until the 20th century.