BLACK WATTLE - a tannin producer
Acacia mearnsii De Wild. (Fabaceae).
Émile de Wildemann gave black wattle its scientific name in 1925, based on collections made at the turn of the 20th century by J. Bequaert.
Native of south-eastern Australia; now a noxious invasive in South Africa.
Life form: tree.
Part used: tannin is extracted from the bark.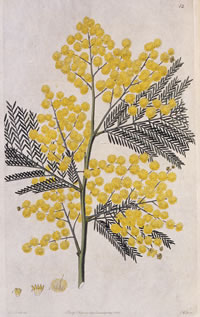 Illustration from the Plate Collection of the Botany Library at the Natural History Museum, London (Acacia mearnsii De Wild. - Black Wattle)