POTATO
Solanum tuberosum L. (Solanaceae).
Given its scientific name by Carolus Linnaeus in 1753, from specimens cultivated in Europe, among which were those cultivated by Philippe de Sivry in the late 1500s in Vienna.
Native to the Andes of South America, first brought to Europe with the Spanish conquistadors in the 16th century.
Life form: perennial herb from tubers.
Parts used: edible tubers.
Ploidy level: tetraploid, some local cultivars triploid or diploid.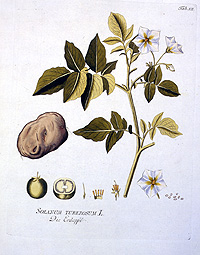 From J.J. von Plenck Icones Plantarum Medicinaliarum (1789) Vol. 2, pl. 121, held in the Botany Library at the Natural History Museum, London (Solanum tuberosum L. - Potato)