Gone fishin'
Mindy, Monday 26 July 2010
Temperature: -20°C
Wind speed: 5 knots
Temp with wind chill: approximately -25°C
Moonrise: above horizon
Moonset: above horizon
After a week of record-breaking cold temperatures, it's hard to believe that the members of Captain Scott's (1910-1913) expedition would be out fishing in the middle of an Antarctic winter. But, every copy of a British Antarctic Expedition (B.A.E.) journal in the library at Scott Base (New Zealand's Antarctic base) suggests this is what they were doing. It interested Dr. Edward Atkinson in particular, as he was the scientist charged with studying parasites and bacteria. While occasionally they did eat the fish, they mostly wanted to advance polar scientific study (and I get the impression the fish didn't taste that good anyway!).
What is puzzling is how they actually caught the fish. The only hints I've found indicate they used a trap made of wire netting. Well, I have no trap here in the lab, but I do have a tin of fish hooks. Hundreds and hundreds of fish hooks – and not one journal reference! Oh well…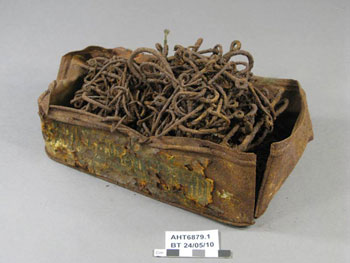 Regardless, it was very satisfying to treat the artefact by separating the hooks from their semi-concreted mass. As a bonus, this lead to the discovery of a rather cool little lure hidden in its centre. And, in treating the tin of fish hooks we did learn a bit about the early explorers' choice of 'sweeties'. In the long tradition of Antarctic thriftiness, they used a 'Rowntree's Clear Gums' tin to keep the hooks in!