Ponting's plates
George, Thursday 22 July 2010
Temperature: -23.3°C
Wind speed: 10 knots
Temp with wind chill: approximately -33°C
Moonrise: none
Moonset: none
Herbert Ponting, the official photographer for Scott's Terra Nova expedition, preferred working with glass plate negatives for their superior image quality – even though photographic film had been in popular use for at least 20 years. The glass plate negatives we are conserving from the darkroom are of different types, and from different companies around the world such as London, France, Sydney and Wellington. Nearly half are by the 'Paget Prize Plate Company' which was based in Watford, UK, and happens to be my home town! The company was only in existence for a short time so these packages are very rare indeed!
The vast majority of Ponting's surviving works are in black and white, but the collection shows that he clearly wanted to experiment with colour. There are over 30 packages of colour plates but it seems this process proved too technically challenging for the environment with only a few colour photos ever being published. The processed plates returned to England with Ponting, so the remaining packages and boxes in the hut are unopened – perhaps abandoned as the most unworkable.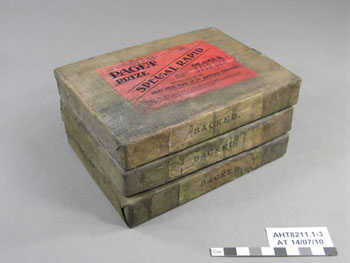 Water damage over the years has left these plates in poor condition. Even for Ponting spoilage was a persistent problem. In his biography he describes how he had so many plates he had to store them outside in the snow and then carefully bring them into the hut when needed. This was done gradually as the change in humidity and temperature could damage the sensitive gelatine coating.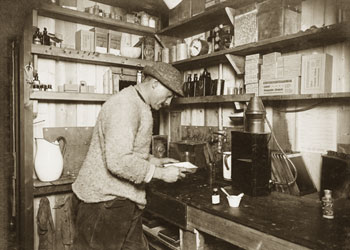 Ponting's darkroom has been relatively untouched over the years and so provides an intriguing time capsule (or should that be snapshot!) into the working processes of this early Antarctic 'camera artist'.