A trip to Pegasus
Jane, Thursday 15 July 2010
Temperature: -20.6°C
Wind speed: 45 knots
Temp with wind chill: -55°C
Moonrise: Below horizon
Moonset: Below horizon
We are immersed in a Condition 1* storm today. The wind is howling and the building is shaking. We are confined to Base because of the extreme cold and lack of visibility.
In 1970 similar weather caused a US Navy plane to make an emergency landing. The weather came in from the south, just like today, and the pilots could not make out the runway on the Ross Ice Shelf because of zero visibility. They were beyond the point at which they could turn around or find an alternative landing place. All 80 passengers were uninjured but the plane was badly damaged.
Last Sunday the weather was much better; -25°C and just 10 knots of wind. A group of us drove out to see the plane which has since given its name to the Pegasus Air Field.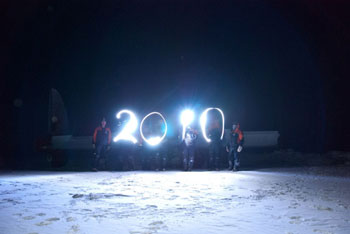 In keeping with ensuring the continent is kept as pristine as possible, the plane is to be removed this year and work has already begun to collect the debris around it.
I drove us home in the Hagglund - my first time driving one. I switched the lights off to see if I could drive in whiteout conditions using just the satellite navigation. Unfortunately, despite the ice shelf being a big, open, flat area, we thought it best to switch the lights back on!
*Condition 1 is defined as visibility less that 30m or sustained winds over 100 km/h or windchill lower than minus 73°C.