Treading softly in the Antarctic
Mindy, Monday 12 July 2010
Temperature: -18°C
Wind Speed: 30 knots
Temp with wind chill: approximately -50°C
Moonrise: below horizon
Moonset: below horizon
We're here for just about seven months all told, living in Antarctica at New Zealand's Scott Base and working to conserve artefacts from Captain Scott's Terra Nova expedition hut at Cape Evans. Ever wondered what effect all of this has on the Antarctic environment? You'll be pleased to know that Antarctica New Zealand has a well-developed plan that directs our activities on ice, with a very clear aim to minimize the environmental impact of our presence here in the Antarctic.
So how does this translate into action? As it is winter, we don't get out in the field much these days but there are many things we can do around base. Wind turbines are working away to generate energy and reduce our fossil fuel consumption but it still makes sense to turn off the lights when we leave the room. Showers are kept short to conserve water, and everyone makes proper use of the recycling system, developed to sort and prepare waste for return to New Zealand.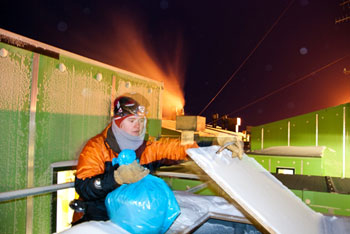 Waste water and sewage are processed properly in our on-base treatment plant. Energy efficient light bulbs are everywhere, including in the photographic set-up in our conservation lab. All these positive actions mean we're doing our part to keep the Antarctic environment happy and healthy.