Taking the waters – Antarctic style
Nicola, Thursday 8 July 2010
Temperature: -31°C
Wind speed: 10 knots
Temp with wind chill: -45°C
Sunrise: none
Sunset: none
I'm always surprised at the similarities between our Antarctic lives and the experiences of the men on the expeditions 100 years ago. But the day after Midwinter with the temperature at -25°C we took part in a Scott Base tradition for which there seems to be no comparison – the polar plunge.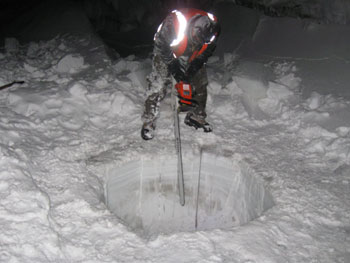 This is when we cut a hole in the sea ice, put on safety harnesses and take it in turns to jump into the icy 1.7°C waters of the Ross Sea. As I plunged through the floating slush of ice and saw the dark blue-green waters around me, the cold instantly numbed my skin and fingers, and I forgot how to breathe. For a split second there was a wonderfully thrilling feeling of being in the unknown … and so I did it again!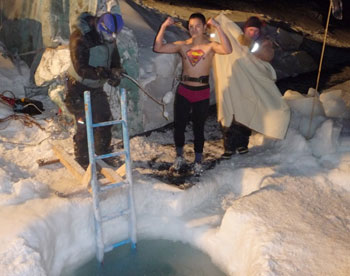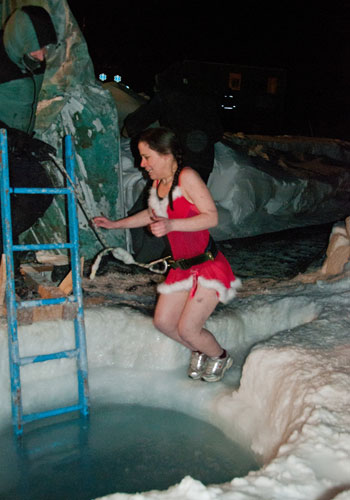 Followed up with saunas and hot showers we shared video clips of our plunges – some did it wearing just shoes, some in fancy dress or bikinis; some made a big splash and others dipped a toe in the water then elegantly slid in without getting their hair wet!
Later I remembered that the only time the members of the expeditions had dipped into the water was by accident, putting a leg through the tide-crack, or falling through thin broken sea ice, some never to be seen again.
Why do we do it? Maybe it's because we all appreciate experiencing the extremes of the Antarctic environment - provided there's a warm sauna to run to afterwards!