Mid-Winter celebrations
Jane, Monday 28 June 2010
Temperature: -37°C
Wind Speed: 5 knots
Temp with wind chill: -45°C
Sunrise: none
Sunset: none
The sun set weeks ago, but this weekend, as our friends in the Northern hemisphere watch the light begin to fade, we at the bottom of the world celebrated its return– even if it is not going to fully return for another couple of months!
Mid winter celebrations have taken place all over the continent and greetings have been exchanged between international bases. Extravagant meals were the order of the day, not least here at New Zealand's Scott Base.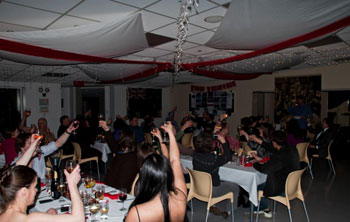 13 of the Scott Base crew and 23 guests from the United States McMurdo station attended our Mid-Winter dinner. We kept our chef in the kitchen to work her magic on the food, whilst we feasted under the fairy lights and decorations.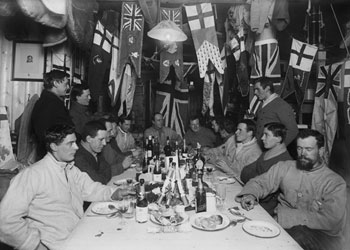 In the speeches homage was paid to the early explorers such as Scott, Shackleton and Amundsen, who were among the first to celebrate this special occasion in the Antarctic calendar.
A similar celebration took place at McMurdo station on Sunday with a flamboyant buffet and dancing, which many of the team from Scott Base attended. They even had what must be the biggest bowl of salad in Antarctica straight from the hydroponics greenhouse!
As I mark off the dates on the calendar, it is becoming clear that we are half way through the long Antarctic night. Only two more months of darkness before the sun pops out for a quick peek!