To rise or not to rise
Nicola, Thursday 1 July 2010
Temperature: -38°C
Wind Speed: 5 knots
Temp with wind chill: -45°C
Sunrise: None
Sunset: None
Last week Georgina, Alf and I spent an evening with Bobbie learning how to make bread, and after all the kneading, proofing and baking we were very proud of our beautiful loaves.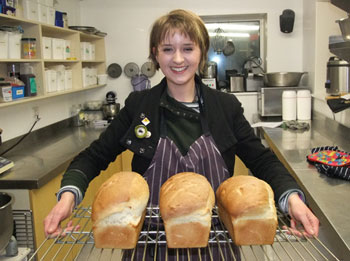 It would have been an endless job for Clissold, the cook on Captain Scott's 1910 expedition, to make bread for 25 men. To save time he put together an alarm from scavenged bits and pieces to let him know when his dough had risen. Scott mentions the mechanism in his diary and describes how the risen dough would complete an electrical circuit setting off a bell and lighting a red lamp.
Clissold's inventiveness is not so surprising as he was an artificer in the Royal Navy by trade and had learnt to cook to qualify for a place on the expedition. His knowledge was to be appreciated when he advised on the motor vehicles and supported them on several depot-laying journeys.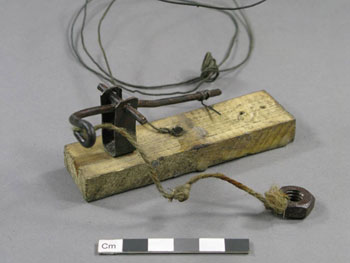 We are trying to work out if a small device found in the galley, where Clissold would have made his bread, is part of Clissold's dough-rising alarm. Griffith Taylor (the expedition's senior geologist) in his memoirs gives a little, but not very detailed, drawing of the mechanism and describes how Clissold put the dough in a big pot on a trolley and wheeled it to his bedside to rise under the contraption. 'When the dough rose sufficiently it pushed up a disc which over balanced a gutter. Down this ran a lead ball which made contact and rang a bell!'
The jury is still out; with so many scientists on the expedition it could be any number of pieces of equipment – what do you think?