Even Antarctic explorers have birthdays!
Mindy, Monday 14 June 2010
Temperature: -26.5°C
Wind Speed: 10 knots
Temp with wind chill: approximately -42°C
Moonrise: below horizon
Moonset: below horizon
"Tuesday, June 6 [1911] - … It is my birthday, a fact I might easily have forgotten, but my kind people did not. At lunch an immense birthday cake made its appearance and we were photographed assembled about it…" (Captain Robert Falcon Scott)
Revelry continued that night with a fine dinner of "…seal soup, roast mutton and red currant jelly, fruit salad, asparagus and chocolate…" (Scott). By all accounts it was a festive occasion. Sadly, this was the last birthday Scott would celebrate, as he and 4 other British Antarctic Expedition members perished returning from the South Pole in early 1912.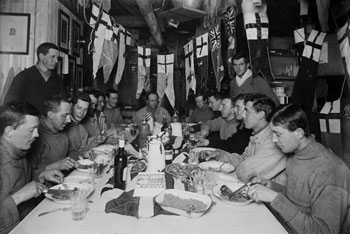 Fast-forward nearly 100 years to present day Scott Base, where we also spent the 6th of June celebrating Scott's birthday. We all take turns preparing dinner on Sundays, and coincidentally I had volunteered to cook supper that night. Hardly anything as fancy as Clissold, cook for the British Antarctic Expedition, had prepared – just a humble spaghetti and meatball dinner. And, despite having the night off, our chef Bobbie agreed to make the dessert. Scott's 2010 birthday cake was decorated as a "Union Jack" – ceremoniously cut by Tom, Scott Base Winter Base Manager.
Glasses raised, our modest celebration closed with a toast to Captain Scott. The sentiment was plain and simply stated – "…to Scott".