Clear as day
Mindy, Monday 7 June 2010
Temperature: -31.9°C
Wind Speed: 15 knots
Temp with wind chill: approximately -55°C
Moonrise: above horizon
Moonset: above horizon
'The moon on the breast of the new fallen snow gave the lustre of mid-day to objects below…' (Clement Clarke Moore, 'The Night Before Christmas').
I know it's strange to be quoting Christmas stories in June. Still, it seems appropriate - it's exactly what runs through my head when I step outside at this time of year to find the moon shining as bright as the sun. On clear days with an almost full moon, I don't usually have to turn on my head torch when I'm out and about. When the landscape is brightly lit by the moon's reflection, you can see as clearly as anything for miles and miles.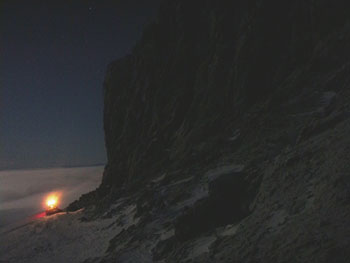 On a recent recreational trip, the view from the base of Castle Rock was just this perfect. Climbing the hill to overlook the low-lying clouds that blanketed the ice shelf, we were treated to an expansive snow-covered landscape illuminated by the moon.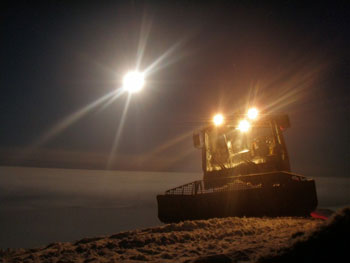 It's one of the scenes of Antarctica that enchants me the most, and a breathtaking reminder that Antarctic winter isn't always dark and forbidding. The sun may be gone for a few months and the days generally cold, but there's no reason we can't enjoy amazing scenery, care of 'Old Man Moon'.