Aurora hunters
Jane, Monday 24 May 2010
Temperature: -36.3°C
Wind Speed: 0 knots
Temp with wind chill: -36°C
Sunrise: August 19th 12.26pm
Sunset: n/a
I decided to join Antarctica New Zealand's science technician, Steven, and base engineer, Hayden, on a walk up Observation Hill to look for auroras (natural light displays which occur in the sky, usually at night) and try out our new night photography skills.
It took us half an hour to prepare for the trip down the road. We donned full ECW (Extreme Cold weather) gear, ski goggle lenses changed from dark to clear, head torches and radios were checked and we took plastic bags for our cameras.
The path up the hill was covered with snow so it was quite difficult to see it in places, but we figured that up was generally a good direction.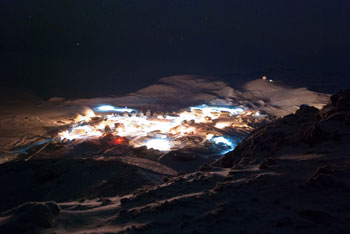 The temperature dropped to about -40°C while we were out, but we were kept snug in our enormous jackets. Looking down from the top of the hill, the bright lights of McMurdo, the wind farm and our home at Scott Base were clearly visible. It was a clear night up above too with a dazzling array of stars visible. I was even lucky enough to see an iridium flare which is caused by sunlight reflected from the solar panels of a satellite in orbit (something I learned at our night time photography class).
Unfortunately, not one aurora was visible.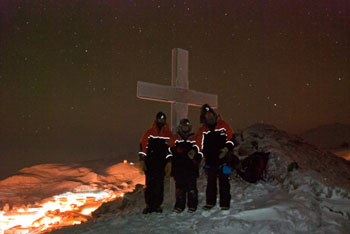 We climbed back down to the vehicle and headed home tired and starting to feel a bit cold. As we pulled back in to Scott Base I glanced out of the window towards Mount Erebus and what did I see? A faint green Aurora.