Yarn and cookies - a cosy winter night at Scott Base
Mindy, Friday 28 May 2010
Temperature: -40.7°C
Wind Speed: No wind
Temp with wind chill: -40.7°C
Moonrise: Below horizon
Moonset: Below horizon
It's Tuesday night, and we've invited the knitters, sewers and those who crochet to Scott Base for a night of industrious crafting. Usually we trot over to McMurdo Station (the nearby American scientific base) for this weekly event, but tonight we hosted a session in our lounge. Bobbie (the Winter Chef for Scott Base) prepared goodies and we turned on the fireplace, warming the room for the arrival of our guests.
Knitting and crochet needles flew as we bantered casually and sampled Bobbie's handiwork. I'm just learning how to knit, but others are quite experienced. Several of the group members are working to make the 49 squares required to create a blanket to be donated to the 'Warm Up America' charity back in the U.S.
There are certainly no idle hands in this group. The cold, dark Antarctic winter does little to slow their activity. Maybe there's no such thing as a "spare moment" – with little projects to be done there's always something to occupy your time. I found a lovely historic photo that suggests it was also this way for Antarctic explorers – always mending, preparing or working on odds and ends.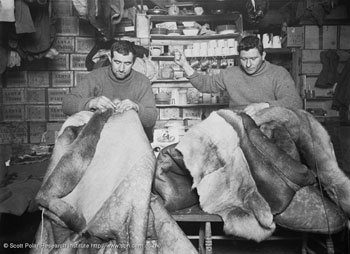 So I'll continue to practice my knitting skills, and maybe by the end of the winter I'll be able to contribute a square to the blanket. It's worth a shot – and there are worse things in life than a pleasant night of knitting by a warm fire…