Antarctica through a lens
Jane, Thursday 13 May 2010
Temperature: -19°C
Wind Speed: 5 knots
Temp with wind chill: -20°C
Sunrise: August 19th 12.26pm
Herbert Ponting was the photographer on the British Antarctic Expedition led by Captain Scott in 1910-13. He not only documented the expedition through photos and film but often entertained other expedition members by giving talks and showing images of his travels to foreign countries.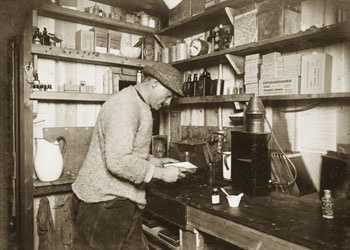 As we begin to focus on conserving objects from the expedition's galley and Ponting's darkroom we have the opportunity to work on some of the materials that he would have used.
It was Scott who coined the phrase to 'pont' which meant to 'pose until nearly frozen, in all sorts of uncomfortable positions', an activity we are becoming well used to down here. Meares, who looked after the expedition dogs, even contributed a humorous poem to the South Polar Times entitled 'Pont, Ponko, Pont' about Ponting's skill as a photographer and the talks he gave.
Among all the interesting artefacts we take out of the crates every week are glass plate negatives. Many of them have not been exposed but I have found a few with images, although often in quite poor condition. Among them are images of geological specimens and tables, maps and animals.
Many of the expedition members would give talks on particular subjects as a form of entertainment. The glass plate negatives I have been conserving may have been used by other members of the crew to illustrate subjects on which they lectured.
This Antarctic pastime is as common now as it was then. Lectures by scientists on a wide range of Antarctic subjects occur regularly at McMurdo Station (the American science base over the hill).
Now, as the afternoon twilight dwindles, I am off to McMurdo to see a talk on night time photography.
The Scott Polar Research Institute, Royal Geographical Society and Natural History Museum have some of Ponting's photos for you to see online.