Trivia night
George, Tuesday 4 May 2010
Temperature: -19°C
Wind Speed: -15°C
Temp with wind chill: -34°C
Sunrise: Sometime in August
Sunset: Last Sunday
Q1. What was the name of the vessel which Shackleton sailed to South Georgia?
Q2. Which animal has a den called a holt?
Q3. In the Asterix and Obelix cartoon series, what was the name of the druid?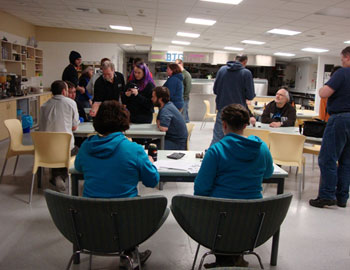 Last night we saw our dining room at Scott Base (New Zealand's science base in the Ross Sea region of Antarctica) transformed into a gaming hall, as we all settled down to a hard-fighting game of trivia. Proceedings were led by Sandy, our base domestic, who was the quiz master for the evening, and aided by Jane, who put together the questions to tax our memories and baffle our brains.
Battling for trivial supremacy were two Scott Base teams; the girls on one side, the boys on the other, and a further 5 teams from McMurdo Base, (the United States science base over the hill from Scott Base). On our team, representing the Antarctic Heritage Trust, were Nicola, Mindy and I, alongside Bobbie our chef.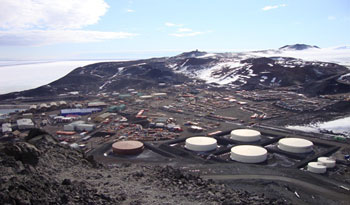 Scott Base has always enjoyed a close and genial relationship with its American neighbours, and especially now that the sun is down (and movement outside is becoming restricted), these sorts of group events are becoming all the more important.
Whether we lacked the mental edge or simply the competitive spirit, both Scott Base teams managed to finish last - with the girls just coming out in front. Fun was had by all, and as the Americans celebrated their wins, our team contented themselves with consolation prizes of crisps and chocolate.
A1. The James Caird
A2. The otter
A3. Getafix