The best journey in the world
Mindy, Thursday 29 April 2010
Temperature: -26.4°C
Wind Speed: 13 knots
Temp with wind chill: approximately -47°C
Sunrise: 11:06am
Sunset: 2:36pm
Inspired by accounts of the early Antarctic explorers man-hauling across the frozen Antarctica landscape, I desperately wanted to give it a go. With 3 other willing participants, we carefully planned and procured the necessary supplies and equipment.
The words '[Left]…a little before 11 in the morning after being photoed with our sledge in the dark by flashlight…' could easily have been an account of our own expedition, but it's really an extract from the journal of Dr. Edward Wilson, Chief Scientific Officer of Captain Scott's 1910-13 Antarctic expedition. Wilson, Lt. Henry "Birdie" Bowers and Apsley Cherry-Garrard spent 19 days in 1911 on a superhuman journey to procure Emperor penguin eggs from Cape Crozier, (located on the other side of Ross Island).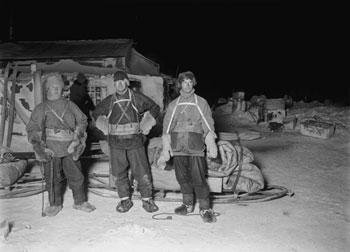 Despite re-tracing a portion of their route, our mini expedition was nowhere near as ambitious. On a relatively calm day and in the dying light of the season, we covered the 12km round-trip between Scott Base and the Antarctica New Zealand field training site in 4 hours. Our loaded Nansen sled required us to pull a load of 50 kg per person. Comparatively, Wilson and his companions trekked 97 km from their base at Cape Evans to Cape Crozier in the darkness and bitter cold of winter, with 106 kg per man on two sleds.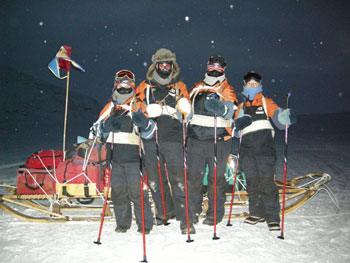 It's hard to measure up to those numbers. Reflecting on the experience, it's humbling to know that we plodded through what Cherry-Garrard considered to be 'the only bit of good pulling we were to have' (The Worst Journey in the World).
If imitation is truly the sincerest form of flattery, I can now fully appreciate how tough these men were.