A man-hauling harness from Cape Evans
Jane, Friday 16 April 2010
Temperature: -27°C
Wind speed: 25 knots
Temp with wind chill: -50°C
Condition 2 - Visibility less than 300m, or sustained winds 89-100km/h, or windchill -60°C to -73°C
Sunrise: 8.49 am
Sunset: 5.00 pm
It was from the expedition base at Cape Evans, Ross Island, Antarctica that Scott left for the South Pole in November 1911, after months of preparation. He used dogs and ponies for the first part of the 1600 mile journey to haul the sledges of provisions and equipment. By mid-December the animals had either died or been shot, leaving Scott, along with Evans, Oates, Wilson and Bowers, to haul the two 700lb sledges themselves using harnesses. Bowers describes it as 'the most back breaking work I have ever come up against'.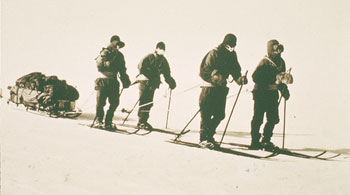 During last summer conservators Lucy and Fran, while on site at Cape Evans, excavated a harness from outside the hut which would have been used for man-hauling. I was the lucky conservator that had the pleasure of working on such an iconic artefact.
The harness was in quite poor condition when I unpacked it. The rope that would have been tied to the sledge was fraying badly and the shoulder straps were almost completely broken through in places.
It has obviously been well used as there is a dark material on the inner surface, which is probably a waterproof coating from the surface of their clothing that rubbed off onto the harness during use. Working on the harness has left me with many questions. Was it used on some of the depot-laying expeditions or on the trip to Cape Crozier to collect Emperor penguin eggs, which Cherry-Gerrard wrote about in The Worst Journey in the World? Which of the expedition members wore it? I can't help but wonder!